CLASS 46

Now in its twelfth year, Class 46 is dedicated to European trade mark law and practice. This weblog is written by a team of enthusiasts who want to spread the word and share their thoughts with others.
Who we all are...
TUESDAY, 25 JUNE 2013
General Court: Dialdi (fig.) v. Aldi
In Case T-505/11, Dialcos SpA (Italy) filed for the CTM application DIALDI (fig.) represented here right for the
following goods inClass 29 – 'Dietetic preparations for special diets in particular gluten-free preparations for making bouillon, gluten-free sauces'; and in Class 30 – 'Dietetic preparations for special diets in particular gluten-free flour, gluten-free pasta, gluten-free cereals, gluten-free biscuits, gluten-free preparations for bread, pizza, pastry and confectionery, prepared dishes (risottos, soups, pasta)'.
Aldi GmbH & Co. KG (Germany) brought an opposition on the basis of earlier CTM ALDI registered for all the goods in class headings 29 and 30.
The Opposition Division and Board of Appeal rejected the opposition on the ground that there was no likelihood of confusion between the marks at issue due to their manifest differences, notwithstanding the fact that the goods covered were identical. The possible highly distinctive character of the earlier mark cannot alter that finding.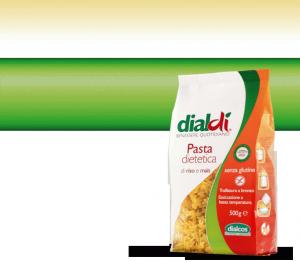 The General Court found the Board of Appeal was correct in considering the goods at issue were intended for all consumers. Even if some of those goods are addressed to a more limited category of persons who have particular dietary and health needs, they cannot be considered to be products with certain potential hazards, requiring, by that fact alone, a higher level of attention from consumers during the purchase, in the manner of, for example, pharmaceutical products; even though certain dietetic preparations for special diets may be sold in pharmacies.
However the GC cancelled the contested decision because it cannot be assumed that the relevant public is 'highly likely' to perceive the first four letters of the mark applied for as an element separate from the two final letters, unlike suggested by the Board of Appeal the consumer will not necessarily emphasise the 'split' nature of the mark applied for. Thus it cannot be held that the visual and aural differences, counterbalance or even outweigh, in significance, their similarities. Thus the Court sends back the case before the BoA to assess all the relevant factors in that regard and, in particular, to determine whether the applicant had demonstrated the enhanced distinctive character acquired through use of the earlier mark.
Posted by: Laetitia Lagarde @ 22.24
Tags:
General court
,
likelihood of confusion
,
dialdi
,
aldi
,



Sharing on Social Media? Use the link below...
Perm-A-Link:
https://www.marques.org/blogs/class46?XID=BHA3270
Reader Comments: 0
Post a Comment
MARQUES does not guarantee the accuracy of the information in this blog. The views are those of the individual contributors and do not necessarily reflect those of MARQUES. Seek professional advice before action on any information included here.
The Class 46 Archive