CLASS 46

Now in its twelfth year, Class 46 is dedicated to European trade mark law and practice. This weblog is written by a team of enthusiasts who want to spread the word and share their thoughts with others.
Who we all are...
MONDAY, 17 JUNE 2013
General Court rules between BETWIN and BETWIN (fig)
In Case T-514/11, the conflict was between the following parties:
i-content Ltd Zweigniederlassung Deutschland- CTM applicant

Decathlon SA – earlier CTM

BETWIN

Class 25

Class 28

Class 25

Class 28
The relevant public consist of the public at large. With respect to the earlier mark, part of the relevant public will understand that mark as referring to the English concept corresponding to the expression 'be twin' (being or be double/twin). As OHIM observes, it cannot be ruled out that part of the English-speaking public might see the letter 'b' followed by an apostrophe as being the equivalent of the English verbal element 'be' (being or be). Moreover, the word 'twin' (twin/double) will be easily understood. Lastly, the figurative element, which cannot be overlooked, is conducive to such an understanding of the mark, since the image of a bicycle brings to mind the concept of two wheels, and thus of duality. Moreover, with respect to the mark applied for, it is entirely plausible that a not insignificant part of the relevant public will break down the term 'betwin' into the elements 'be' and 'twin', which have a specific meaning and resemble known words.As to the question that the public will identify BETWIN as descriptive for services designed to offer bets or games played for money, as OHIM rightly observes, none of the goods covered by the marks at issue in the present case necessarily falls within that type of services.
Accordingly, the Board of Appeal was right to find that there exists between the marks at issue phonetic identity and visual and conceptual similarities which are not counterbalanced by visual dissimilarities.
With respect to the comparison of the goods, the Board of Appeal noted that the parties had not contested the Opposition Division's conclusion, namely the goods in Classes 25 and 28 are identical or similar.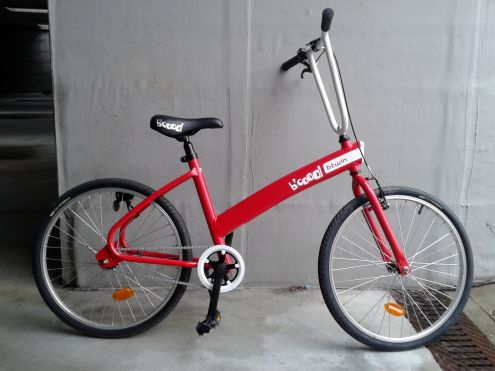 The Court however annulled the contested decision finding that even if between certain 'gymnastic and sporting articles', on the one hand, and certain toys, games and playthings, on the other, a link can be drawn in so far as certain sporting articles can be used for games and certain games can also be sporting articles, such an assumption does not call in question the fact that the intended purpose of those two categories of goods is essentially different. Even if, by their nature, those two categories of goods are meant to entertain the public, they also serve other purposes. As the applicant rightly submits, gymnastic and sporting articles are intended to train the body through physical exercise, whereas toys, games and playthings are intended first and foremost to entertain their users. Further, categories of goods are generally manufactured by specialist undertakings and are sold in specialist stores.
Thus the GC rejected the opposition for the following goods: "'inflatable swimming pools for recreational use; jungle gyms (play equipment); stuffed plush animals; swimming pools [toys]; air pistols [toys], hand-held electronic video games; toy vehicles; toy models; electronic hand-held game units; counters for games; checkers [games]; playground apparatus; mechanical action toys; playthings, except playthings for pets; electronic games; toy balloons; dice; novelties for parties, dances (party favours); hand-held electronic games; game cards; pinball-type games; cups for dice; printing toys; question sets for board games; bingo card; model aircraft; skittles; dominoes; decorative wind socks; pinball machines; skill and action games; parlour games; slot machines, automatic; pinball machines (coin or non-coin operated); scale model aeroplanes; card games; flying disks; playing balls; games; cups for dice; dolls; skittles (games); remote-control vehicles (toys); quoits; darts; clay pigeon traps; scale‑model vehicles; sledges; slot machines, automatic; chess; toy masks; puzzles; stuffed toys; hand-held computer games; darts; toy aircraft; tossing disc toys; clay pigeons (targets); tappets; teddy bears; hand‑held video games; electronically-operated toy motor vehicles; battery operated toys; gaming chips; targets; stuffed toy bears; inflatable toys; board games; swings; kites; model cars".
Posted by: Laetitia Lagarde @ 17.23
Tags:
general court
,
lilelihood of confusion
,
betwin
,
between
,



Sharing on Social Media? Use the link below...
Perm-A-Link:
https://www.marques.org/blogs/class46?XID=BHA3263
Reader Comments: 0
Post a Comment
MARQUES does not guarantee the accuracy of the information in this blog. The views are those of the individual contributors and do not necessarily reflect those of MARQUES. Seek professional advice before action on any information included here.
The Class 46 Archive