CLASS 46

Now in its twelfth year, Class 46 is dedicated to European trade mark law and practice. This weblog is written by a team of enthusiasts who want to spread the word and share their thoughts with others.
Who we all are...
MONDAY, 22 APRIL 2013
General Court: Adelholzener bottle not distinctive for mineral water
In Case T-347/10, Adelholzener Alpenquellen GmbH applied for the following 3-D CTM for goods in Class 32 "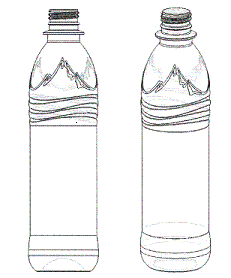 beers; mineral waters and other non alcoholic beverages; fruit juices and drinks; syrups and other beverages preparations".
The OHIM rejected the CTM application because it lacks distinctive character in the meaning of Article 7(1) (b) CTMR. In essence, it emerges from the examiners' experience that the overall shape (consisting of a basic shape, ribbed surface and relief design on the neck) does not diverge significantly from the norms of the sector, so the relevant average consumer will not identify it as a source of origin.
As regards the shape of the bottle, it is a geometrical shape commonly used for this type of bottle and the notch at the bottom is also a usual characteristic for this kind of beverages' bottle, from the product manufacturing. As regards the surface of the bottle, many beverages manufacturers are ribbed or have similar lines on their bottles. As for the "mountain" figurative element –which the Applicant claimed to be its logo- the consumer will not perceive it as an independent sign but merely as a decorative element.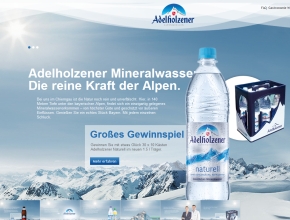 The GC upheld the Board of Appeal's decision and further held that the absence of a clear representation of pictures of bottles representing the norms of the sector in the examiner's refusal decision, is not material since the it is common knowledge that many bottles manufacturers affix lines or make ribbed bottles. Finally, the OHIM did not have to take into account for its distinctive character analysis the Applicant's claim that the figurative element and the creases on the bottle did not have a functional use because the material used was not part of the CTM application's description.
Posted by: Laetitia Lagarde @ 11.22
Tags:
general court
,
absolute grounds,Adelholzener
,
mountains
,
3D mark
,
shape bottle
,



Sharing on Social Media? Use the link below...
Perm-A-Link:
https://www.marques.org/blogs/class46?XID=BHA3194
Reader Comments: 0
Post a Comment
MARQUES does not guarantee the accuracy of the information in this blog. The views are those of the individual contributors and do not necessarily reflect those of MARQUES. Seek professional advice before action on any information included here.
The Class 46 Archive