CLASS 46

Now in its twelfth year, Class 46 is dedicated to European trade mark law and practice. This weblog is written by a team of enthusiasts who want to spread the word and share their thoughts with others.
Who we all are...
WEDNESDAY, 16 APRIL 2008
Elsmore writes on coexistence agreements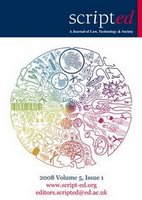 Volume 5, no. 1 of SCRIPT-ed has now been published. SCRIPT-ed is an excellent peer-reviewed online intellectual property journal, published out of the University of Edinburgh. This issue contains an article by Matthew J Elsmore, an Assistant Professor in the Aarhus Business School, the University of Aarhus, Denmark that will be of particular interest to European trade mark lawyers and owners: "Trade Mark Coexistence Agreements: What is all the (lack of) fuss about?" According to the abstract,

"Traditionally, it is understood that trade mark law tackles the prospect of damage resulting from the use of confusingly similar trade marks. The aim is broadly to ensure commercial origin is differentiated and proprietary rights secured. A lot is written on this in Europe. In contrast, very little time and space is allocated to trade mark coexistence agreements. Despite a shortage of authoritative rulings, it is not immediately clear why, especially as they may be having a profound impact on the use of product markers. Coexistence agreements commonly exist between parties with at least similar trade marks who decide to formally coexist, often in the wake of legal skirmishes. In the busy European market, where Community-wide protection is available, an up-front contract may be an attractive way to avoid trade mark conflict. When these contracts work, trade mark law is effectively pre-empted as the underlying agreement, possibly remote of genuine trade mark concerns, is the real governing law. Among other things, this affects the ability of competitors to acquire rights and the quality of information available to consumers. A better understanding of these agreements is essential therefore, not least because on the limited occasions they come before trade mark bodies, the juridical response is inconsistent, though a theme that emerges is of a dismissive and unconvincing attitude. The reasons why are rarely elaborated and while this may simply reflect an awkward interplay between contracts and trade marks, the article deepens the discussion. Starting from concepts and commercial realities, the analysis proceeds to case law and underlying legal and economic rationale to determine whether the lack of fuss is justified".
You can read the article
here
. Posted by: Blog Administrator @ 00.09
Tags:
Coexistence agreements
,



Sharing on Social Media? Use the link below...
Perm-A-Link:
https://www.marques.org/blogs/class46?XID=BHA311
Reader Comments: 0
Post a Comment
MARQUES does not guarantee the accuracy of the information in this blog. The views are those of the individual contributors and do not necessarily reflect those of MARQUES. Seek professional advice before action on any information included here.
The Class 46 Archive