CLASS 46

Now in its twelfth year, Class 46 is dedicated to European trade mark law and practice. This weblog is written by a team of enthusiasts who want to spread the word and share their thoughts with others.
Who we all are...
MONDAY, 7 JANUARY 2013
Allah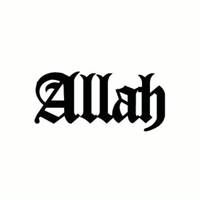 Page three news today in Dutch newspaper 'De Telegraaf': artist Teun Castelein from Amsterdam has registered 'Allah' as a trade mark at the Benelux Office for Intellectual Property (BOIP). According to De Telegraaf Castelein has provoked Islamic organizations with this registration. The registration, which actually concerns only a certain figurative reproduction of 'Allah', concerns a variety of goods in classes 18 (leather goods), 25 (clothing) and 26 (embroidery and lacework). De Telegraaf quotes mr. Castelein as follows (translated from Dutch in English): '
It is an incredible beautiful name. (…) I was surprised to learn that nobody has registered 'Allah' before, (…) I only had to pay 250 EURO and now I have a world mark. Actually Allah as a God from the Koran belongs to everyone. For commercial manifestations nothing had been arranged.
' Jacob van der Blom, chairman of the Landelijk Platform Nieuwe Moslims ('
National Platform New Moslims
'), requested to comment on the matter by De Telegraaf, responds – according to De Telegraaf – '
Notwithstanding whether it is Arabic or Dutch, the name Allah commands respect and is actually not intended for commercial manifestations
.' Last but not least De Telegraaf requested Arnoud Bos from Onel to comment. According to Arnoud the Allah registration is valid. Gods and godlike beings can be trade marks: '
Investigation shows that the trade mark Jesus has been claimed several times for soap, diving goggles and watches
.' From the online register however it appears that the registration is not final yet. The BOIP seems to have made a temporary decision to refuse the registration. Posted by: Gino Van Roeyen @ 13.33
Tags:
allah
,
netherlands
,
trade mark
,



Sharing on Social Media? Use the link below...
Perm-A-Link:
https://www.marques.org/blogs/class46?XID=BHA3070
Reader Comments: 0
Post a Comment
MARQUES does not guarantee the accuracy of the information in this blog. The views are those of the individual contributors and do not necessarily reflect those of MARQUES. Seek professional advice before action on any information included here.
The Class 46 Archive