CLASS 46

Now in its twelfth year, Class 46 is dedicated to European trade mark law and practice. This weblog is written by a team of enthusiasts who want to spread the word and share their thoughts with others.
Who we all are...
SATURDAY, 22 DECEMBER 2012
Merry Christmas - but don't use this tree!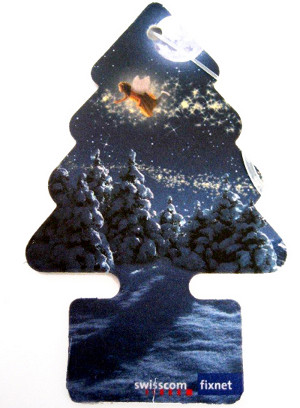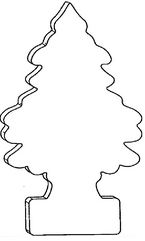 The decision by the Commercial Court of Zurich regarding the above depicted car freshener in the shape of a Christmas tree, which was distributed free of charge by the Swiss telecom company Swisscom AG to its customers is a bit long in the teeth, but I believe it has not been previously reported on Class 46 and nicely fits the season.
The owner of the 3-dimensional (but pretty flat...) trade mark "tree shape" (also depicted) brought a civil action seeking damages (the distribution already occurred) against Swisscom before the Commercial Court of Zurich. The Court found the mark valid and infringed by the car fresheners of Swisscom. However, the plaintiff was less lucky with its damages claim: the Court held that it had failed to prove any actual financial loss incurred because of the distribution of 270,000 pieces of the car fresheners (a pretty impressive number given the population of Switzerland of 7.5 mio). It could only claim a usual license fee of 15% of the sales price it would have charged a customer like Swisscom for an order of this magnitude; this license fee was calculated to amount to CHF 11,340 (roughly EUR 10,000).
The Class 64 team wishes all its readers a very Merry Christmas, Hanukkah or whichever holiday you celebrate! Hope you find some peace and rest among your loved ones, and lots of energy to fight for your trade marks in 2013.
Link to summary of decision of the Commercial Court of Zurich of 9 July 2010.
Posted by: Mark Schweizer @ 23.56
Tags:
Switzerland
,
damages
,
Perm-A-Link:
https://www.marques.org/blogs/class46?XID=BHA3063
MARQUES does not guarantee the accuracy of the information in this blog. The views are those of the individual contributors and do not necessarily reflect those of MARQUES. Seek professional advice before action on any information included here.
The Class 46 Archive