CLASS 46

Now in its twelfth year, Class 46 is dedicated to European trade mark law and practice. This weblog is written by a team of enthusiasts who want to spread the word and share their thoughts with others.
Who we all are...
WEDNESDAY, 21 JULY 2010
Using Google Similar Images search to find infringing logos

Google's "find similar images" feature, which is part of Google's image search since October 2009, is a - not perfect, but nonetheless sometimes useful - way to find images that may be infringing on your trade mark.
Selecting the "find similar images" option on the image on the right - the original World Wide Fund For Nature logo - will find, within the first 5 pages of results, the following spoofs: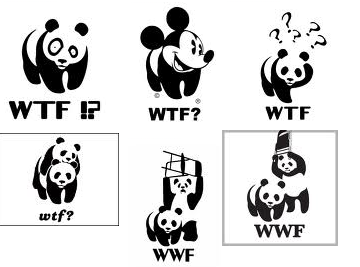 I am not saying that WWF should or could take action against any of these, but sometimes it is interesting to see who is using imagery that is similar to your trade mark, and Google Images provides an easy way to at least get some idea of who is getting a bit too close for comfort (Microsoft's Bing search engine also provides a "find similar images" option, but I get the impression that it is based more on the text associated with the image than the content of the image).
Posted by: Mark Schweizer @ 08.23
Tags:
vigilance
,
internet
,
trade mark
,
brand protection
,



Sharing on Social Media? Use the link below...
Perm-A-Link:
https://www.marques.org/blogs/class46?XID=BHA1938
Reader Comments: 1
Post a Comment
Submitted By: Frédéric Glaize
21 July 2010 @ 17.27
Google's Find Similar Image also seems to rely on the words describing a picture to assess the similarity (pictures of the French capital are considered simalar to Paris Hilton!). When searching for similar images one should also consider http://www.tineye.com/ where users can submit a picture in order to search for similar ones, rather than using words to describe a picture.
MARQUES does not guarantee the accuracy of the information in this blog. The views are those of the individual contributors and do not necessarily reflect those of MARQUES. Seek professional advice before action on any information included here.
The Class 46 Archive