CLASS 46

Now in its twelfth year, Class 46 is dedicated to European trade mark law and practice. This weblog is written by a team of enthusiasts who want to spread the word and share their thoughts with others.
Who we all are...
THURSDAY, 11 JUNE 2009
ECJ rules on 'bad faith' factors in chocolate bunnie dispute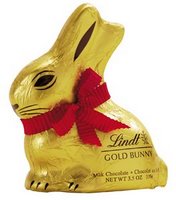 The Court of Justice of the European Communities has just given its judgment in Case C‑529/07, Chocoladefabriken Lindt & Sprüngli AG v Franz Hauswirth GmbH. This is a reference for a preliminary ruling from Austria on the question of how to establish bad faith in trade mark invalidity proceedings. According to the Court,
"In order to determine whether the applicant is acting in bad faith within the meaning of Article 51(1)(b) of Council Regulation ... 40/94 ..., the national court must take into consideration all the relevant factors specific to the particular case which pertained at the time of filing the application for registration of the sign as a Community trade mark, in particular:

– the fact that the applicant knows or must know that a third party is using, in at least one Member State, an identical or similar sign for an identical or similar product capable of being confused with the sign for which registration is sought;

– the applicant's intention to prevent that third party from continuing to use such a sign; and

– the degree of legal protection enjoyed by the third party's sign and by the sign for which registration is sought".
Posted by: Blog Administrator @ 11.36
Tags:
Bad faith
,



Sharing on Social Media? Use the link below...
Perm-A-Link:
https://www.marques.org/blogs/class46?XID=BHA1185
Reader Comments: 0
Post a Comment
MARQUES does not guarantee the accuracy of the information in this blog. The views are those of the individual contributors and do not necessarily reflect those of MARQUES. Seek professional advice before action on any information included here.
The Class 46 Archive