FRIDAY, 12 DECEMBER 2014
Gilet design defendant's explanation "unsatisfactory", but still not a case for bonus damages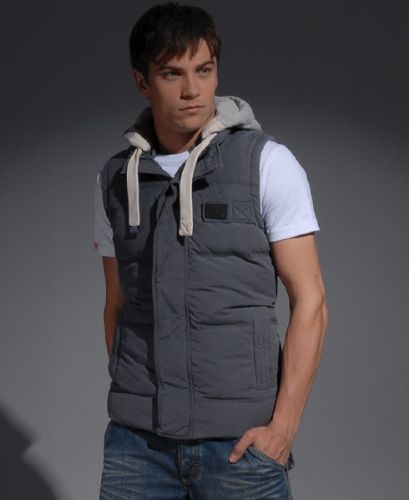 DKH Retail Ltd v H. Young (Operations) Ltd [2014] EWHC 4034 (IPEC) is another IP Enterprise Court, England and Wales, decision of Judge Richard Hacon, this time from 8 December 2014. DKU sued Young for infringement of UK and Community unregistered design rights in relation to (i) the front central portion and hood of its 'Academy' gilet [click here for guidance on pronunciation of this word], right, sold under the SUPERDRY brand name and (2) the hood alone. The alleged infringement involved the importation and sale of Young's 'Glaisdale' gilet sold under the ANIMAL brand name.
This was quite a big case by IPEC standards, requiring two days' hearings and demanding a 124-paragraph judgment from a normally quite laconic judge. Of particular interest is DKH's request for damages in addition to normal compensatory damages, citing Article 13(1) of the IP Enforcement Directive. Said the judge, at [121] to [122]:
"In the present case DKH claims further damages on the grounds that (a) H Young was "deliberately attempting to rip-off a competitor's successful product" and (b) until July 2014 (well after the [pre-trial case management conference] in November 2013) H Young falsely maintained that the Glaisdale gilet had been designed independently of any basis on the Academy gilet.
I have found that H Young copied parts of the Academy gilet such as to infringe DKH's unregistered rights. Knowledge was not established until receipt of the letter before action. The late timing of H Young's effective admission of copying was unsatisfactory and H Young says this was as a result of carrying out its own disclosure, which may not be much of an excuse, but the details of what happened have not been investigated. I have no doubt anyway that this is not a case in which damages pursuant to art.13(1) should be awarded".
In case you are wondering, this is because the judge, citing his earlier decision in Jodie Aysha Henderson v All Around The World Recordings Limited [2014] EWHC 3087 (IPEC), said at [120]:
"I do not take the view that a successful claim for secondary infringement automatically leads to bonus damages under one or more of the heads made available under art.13(1)."
It will be good to know, though, when bonus damages can be recovered, and to get some actual examples into the precedent books. Do readers from other countries have examples of extra damages awards in design infringement cases? If so, it will be good to know.