THURSDAY, 6 DECEMBER 2012
Dongshan Bai Lu Sun: first GI asparagus in space?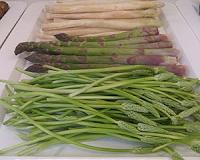 Another Chinese food product has secured protected status for its appellation: under Commission Implementing Regulation 1118/2012 of 28 November 2012 entering a name in the register of protected designations of origin and protected geographical indications (东山白芦笋 (Dongshan Bai Lu Sun) (PGI)), legal protection is vested in the term "Dongshan Bai Lu Sun" in both Latin and Chinese characters. The product in question is a canned asparagus that has been cultivated in Dongshan in accordance with traditional techniques. It is believed that the Chinese are planning to experiment with the cultivation of Dongshan Bai Lu Sun in space, as part of an ecological life support system for astronauts.