Svrljig is a small hamlet located in the mountainous area of southeast Serbia. It nestles quietly in its valley, surrounding the river Timok which originates in the surrounding mountains and courses its way through the valley, eventually to flow into the Danube.
Thanks to its geographic location, its climate and the flora of the valley and surrounding mountains, the area of Svrljig is well suited for sheep and cattle farming and is known for its indigenous sheep and cattle breeds, as well as for the high quality of its meat and dairy products.
One of its best-known dairy products is a specific melted cheese called Svrljiški belmuž, or belmuž of Svrljig.
Belmuž has long been a traditional product of the area, made by the local shepherds, where the recipe was handed down from generation to generation. This recipe consists of melting newly made cottage cheese, from best quality unskimmed milk (sheep milk, cow milk or mixed) in a copper pan, over a low heat, until its consistency becomes milk-like, and then gradually, by hand, sprinkling cornmeal and/or wheat flour into the melted cheese and mixing it well until a butter-smooth consistency is obtained.
The amount of cornmeal/wheat flour may not exceed 15% of the cheese mass used for preparing the product. Traditionally, the sprinkling and mixing was done by hand, and since it required strength, it was usually done by the man of the house. The better the husband, the better the cheese. Hence the name "belmuž" – "bel" from white, to represent the colour of the cornmeal, and metaphorically, the honour of the man, and "muž" meaning man, husband.
The name Svrljiški belmuž is protected as a designation of geographic indication as of 2010. And of course, today the melting and mixing is no longer done by the husbands, but by a specially constructed device, a so-called duplicator.
In order to carry the name Svrljiški belmuž, the products must fulfil the following conditions:
• the milk, cornflour and wheat flour must be from indigenous breeds/sorts and must fulfil the prescribed quality standards;
• the production technique must fulfil the prescribed quality standards.
The flavour of this delicacy is light, mild and smooth, and it should melt in your mouth like butter. Of course, it is best served with other local products: home-cured meats and buns made of fried dough. Every year at the beginning of August, the locals compete in preparing belmuž the traditional way – and guests from all of Serbia and beyond gather to enjoy the local hospitality and to cast their vote as to which family makes the best product.
This article is brought to you by the Marques GI Team, which wonders whether its readers might like to participate in a competition, too. At the next GI session, just come up to any GI team member and say "Svrljiški belmuž". There will be rewards for anyone who manages to pronounce it correctly!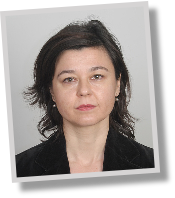 Marijana Kozakijevic is a patent agent at Mikijelj Jankovic & Bogdanovic and a member of the MARQUES GI Team