The internet is changing. The world has become accustomed to traditional generic top-level domains (gTLDs), such as .com, .net or .org; however this year will see the introduction of many new gTLDs into the domain name system: instead of typing www.somewebsite.com into a web browser, www.somewebsite.anything could be entered. This is the result of Icann's decision to accept applications from entrepreneurs, businesses, governments, communities and other organisations all seeking to become registry operators of new gTLDs.
The applications
In 2012, 1,930 new gTLD applications were filed for a total of 1409 unique gTLDs: 1,179 of these had a single applicant and 230 were requested by two or more parties. The applications included:
generic: .shop; .restaurant; .news
brands: .amazon; .microsoft; .panasonic
products: .kindle; .xbox
communities: .gay; .eco; .catholic
geographies: .london; .istanbul; .sydney
Applications were also made for new gTLDs in non-Latin language scripts, such as Chinese and Arabic.
The new gTLD application process closed on 30th May 2012 and the formal objection period closed on 13th March 2013.
The future
We are moving from an online world with 22 gTLDs to over 1000 gTLDs – an increase of 6000%. Most trade mark owners are concerned with protection at the second-level in the new gTLDs, ie the element that is to the left of the gTLD, or in the example URL www.somewebsite.anything, the 'somewebsite' part of the domain name.
The seemingly infinite landscape of the expansion of gTLDs will cause unease for many trade mark owners. Consequently, Icann has developed several trade mark protection initiatives with regard to the new gTLD programme. The Trademark Clearinghouse is one such system that will help brand owners navigate this apparent minefield.
Background
The Trademark Clearinghouse has been created specifically to serve as a global, central repository of trade mark rights information to protect trade marks in the new gTLD programme and eliminates the need for brand owners to submit their trade mark information to separate databases belonging to each registry. According to Icann, the "Trademark Clearinghouse is designed to increase protections, as well as reduce costs for mark holders".
Trademark Clearinghouse: key facts
It opens on 26th March 2013, around a month before ICANN is expected to approve the first new gTLDs.
IBM has been appointed to run the database of marks for the Trademark Clearinghouse and Deloitte has been appointed to validate trade marks.
Trade mark owners will be able to submit their mark to the Trademark Clearinghouse for a one-off fee. In return, all new gTLD registries will be required to use the Trademark Clearinghouse in order to obtain and verify trade mark information in the new gTLD space.
Sunrise services
All new gTLD registries will be obliged to provide a minimum 30-day sunrise period (an exclusive priority period for trade mark owners before registration opens to the public). This will enable mark holders to proactively take protective measures. To participate in a new gTLD sunrise, mark holders must provide proof of use – a sample of use and a declaration of use.
As brands can have an identical mark for different jurisdictions or classes, multiple applications into the Trademark Clearinghouse for the same mark will be permitted. If two trademark owners apply for the same domain name during the sunrise period, then the registry operator will have discretion over whether an auction should be held, whether the domain should be awarded on a first-come, first-served basis, or whether another allocation method should be applied.
Trademark Claims Service
A Trademark Claims Service will be offered for at least 60 days following sunrise, requiring registries to check new domain name registrations against the Trademark Clearinghouse and notify potential registrants when their prospective registrations are identical to an existing mark. No proof of use is required for this service.
Merely notifying a registrant that their registration could infringe an existing trade mark will not necessarily prevent them from registering the domain name. It does however inform them about possible trade mark conflict – something that they may not have been able to easily discover. If the domain name registration is then completed by the registrant, the trade mark owner will receive a notification and may choose to pursue their claim through a number of internal Icann alternative dispute resolution mechanisms or eventually decide to take legal action against the registrant.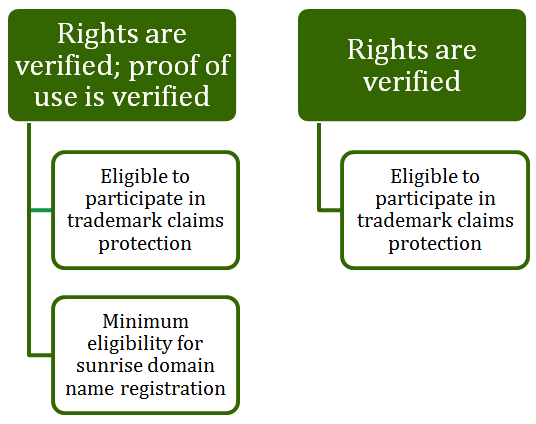 Source: Deloitte
What can be registered?
To be eligible for inclusion in the Trademark Clearinghouse a mark must be either nationally or regionally registered, validated by a court of law, protected by a statute or treaty or some other mark that constitutes intellectual property which can be represented within and verified by the Trademark Clearinghouse.
The Trademark Clearinghouse will permit eligible marks to be registered that include certain punctuation symbols and characters that cannot be represented in the domain name space, such as &, ! and @. Trade marks including a dot, eg some.website will not be eligible for registration in the Trademark Clearinghouse.
Based on ICANN's Domain Name Matching Rules, options exist to omit impermissible characters, replace them with hyphens or underscores, or spell them out using appropriate words (eg 'and' for &; 'at' for @) to form approved identical matches of the trade mark.
The Trademark Clearinghouse will automatically generate these permissible domain name labels, from which brand owners will be able to identify all the trade mark variants they would like the Trademark Clearinghouse to use for sunrise and trade mark claims services.
For example, using the mark 'Some Website', identical matches could include:
somewebsite.anything
some-website.anything
However, marks contained within a longer second-level string, or plural versions, would not qualify for inclusion and therefore would not be considered as an identical match for the registered mark:
somewebsiteforyou.anything
somewebsites.anything
Brands will, for that reason, be forced to consider numerous defensive registrations in areas that the Trademark Clearinghouse will not automatically identify, in order to prevent cybersquatting.
Fees
Fees for the Trademark Clearinghouse will depend on the number of trade marks submitted.
The price of one registration in the Trademark Clearinghouse includes the selection of up to 10 permitted identically matching variants. Each additional label will cost $1, $3 or $5 for respective one, three or five year registrations.
Trade mark holders will be able to use the basic credit-card pricing structure, whereby a single trade mark will cost $150 to register for one year, increasing to $435 and $725 for three and five years respectively.
A second, prepaid advanced pricing structure will be available to both trade mark holders and trade mark agents, through which various volume discounts will be awarded, depending on the number of 'status points' customers accumulate:

Status points will be earned for each year a trade mark is registered and for multi-year registrations.
Additionally, bonus points will be awarded if registrations to the Trademark Clearinghouse are made before the first new gTLD's sunrise period begins.
Concerns
The Trademark Clearinghouse is not a panacea: it does not prevent typosquatting (registering a second-level domain with a common misspelling) or totally eliminate the costs associated with battling cybersquatters. Simply registering with the Trademark Clearinghouse will not prove or create any legal rights. Timescales may also be an issue. If Trademark Clearinghouse applications are still pending, mark holders could miss the opportunity to participate in sunrise periods for gTLDs that are applicable to them.
Strawman solution
Many policy and implementation decisions pertaining to the Trademark Clearinghouse are still incomplete. A strawman solution posted for a period of public comment, which closed on 5 February 2013, presented several amendments to existing policies in order to address the concerns of stakeholders. Suggestions included:
an optional 'Claims 2' period, whereby mark holders could pay additional fees in order to keep the basic functions of the Trademark Clearinghouse open for six months to a year;
extending the Trademark Claims Service from 60 days to 90 days; and
a mandatory requirement for registries to provide 30 days advance notice for each new gTLD sunrise period.
Most of the support for this solution came from the brand owners, driven by their concern at the potential for their trade mark to be registered in a new gTLD registry by an unauthorised third party, thus potentially damaging their reputation and goodwill and requiring them to lodge costly defensive registrations as a preventative measure. Consequently, brand owners have asked for additional protection through Limited Preventive Registration (LPR) measures, which will eliminate the need for them to monitor the launch of each new gTLD, a resource intensive activity, allowing them instead to prevent second-level registration of their marks across all registries.
The outcome of the public comment period for the strawman solution and LPR is still pending.
Advice
In order to safeguard valuable marks, organisations should be proactive about both protecting and promoting their brands in the new gTLD space. Brand owners should monitor the outcomes of the strawman and LPR proposals as this will influence their long-term strategy for dealing with the gTLD expansion.
Due to the limitations concerning marks included within longer second-level strings, it is also advised that brand owners develop a new gTLD watching service, or sign up to a watching service offered by new gTLD trade mark specialists, to address possible conflicting registrations.
Brand owners should consider putting the following marks into the Trademark Clearinghouse:
Registered marks that are in operation in key markets
Marks that are vital to online presence
Marks that are sensitive to infringement and/or abuse
It is recommended that brand owners put their marks into the Trademark Clearinghouse sooner rather than later, in order to be given preferential treatment in terms of being eligible to participate in all of the upcoming sunrise periods and taking advantage of the Trademark Claims Service.
Additionally, trade mark holders, or their agents, should register their marks before the first new gTLD sunrise period begins to qualify for 'bonus' 'status points' through the Trademark Clearinghouse advanced pricing structure, in order to take advantage of any volume discounts for which they may be eligible.
If brand owners choose not to participate in the Trademark Clearinghouse, resulting litigation following undesirable use by others could be costly. Brand owners must start being proactive now or be at greater risk from future, expensive domain name disputes.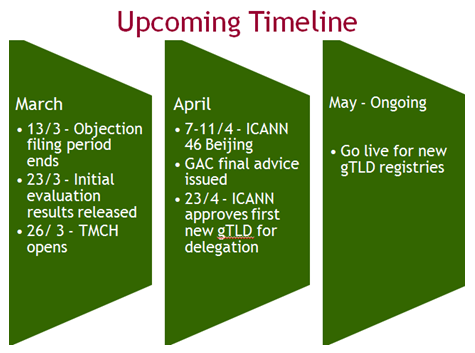 By Sarah Clayton and Nevan Chellen of Com Laude