FRIDAY, 21 SEPTEMBER 2018
Key trade mark cases from the past year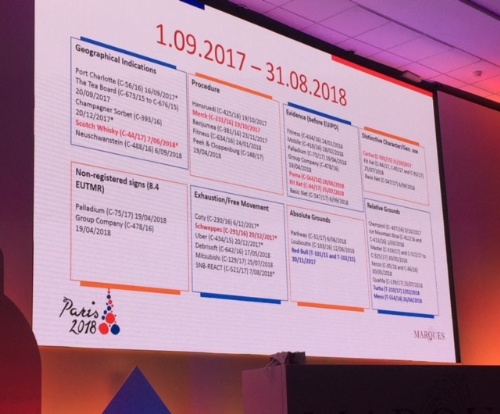 In the final session of this year's Annual Conference, Carles Prat of Baker McKenzie reviewed the past year at the CJEU and EU General Court. He noted that the number of cases and judgdments seems to be levelling off, and said: "There is a certain shift in the topics that make their way up to the General Court from the fundamentals to more specific issues."
He organised the past year's cases into eight categories: geographical indications, procedure, evidence (before EUIPO), distinctive character and genuine use, non-registered signs (Article 8.4 EUTMR), exhaustion/free movement, absolute grounds and relative grounds.
Regarding GIs, he said: "Everyone is learning." A key case last year was Scotch Whisky (C-44/17) concerning whether the use of "Glen" evokes Scotch whisky. The Court said "conceptual proximity" suffices, but Carles asked whether proximity is the same or different to similarity.
On procedure, Carles focused on Merck (C-231/16) on jurisdiction in a case brought in both Germany and the UK, which ruled that the German court could decline the UK portion. Does this affect the unitary character? he asked.
Cactus (C-501/15) concerned whether the use of a logo without the word mark was an alternation of distinctive character. The Court considered it to be use in an "abbreviated form", and only a visual and conceptual (not phonetic) comparison was necessary.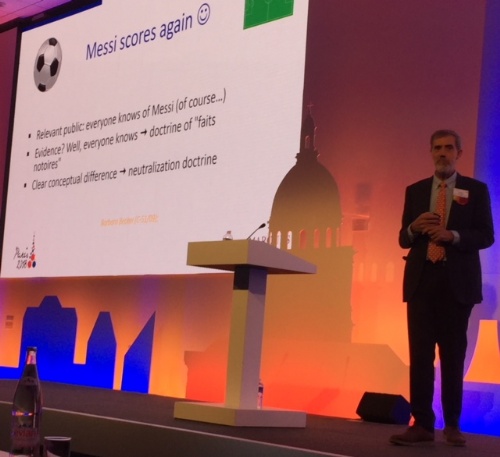 The Kit Kat case (C-84/17, C-85/17 and C-95/17) addressed evidence and in particular what is "a substantial part of the public". Carles said the Court made a distinction between the obligation to prove acquired distinctiveness in every part of the EU, and the means of evidence needed: "We need to rethink the way we produce evidence in these cases."
Also on evidence, Puma (C-564/16) was a case where Puma relied on three earlier EUIPO decisions. The Court focused on the principle of "sound administration" and said the Office should have invited Puma to submit supplementary evidence.
Among a number of decisions on exhaustion, Carles focused on Schweppes (C-291/16), which concerned a mark with different ownership in the UK and Spain.
Red Bull (T-101/15 and T-102/15) was a case in which MARQUES intervened. The General Court felt that Red Bull's grey and blue application for a mark was not sufficiently clear and precise to be registered, and the case is now before the CJEU.
Two cases on relative grounds were Turbo (T-210/17), which involved a finding of no likelihood of confusion between the TURBO and TRIPLE TURBO devices, due to sufficient differences in the graphical elements, and Messi (T-554/14) on likelihood of confusion between Massi and Messi. This was a victory for footballer Lionel Messi and Carles noted that his fame was key to the General Court's decision: "If everyone knows something, you don't need to prove it."
Session chair Johannes Fuhrmann of Bomhard IP added one final case on procedural pitfalls, where the lawyer was also the party in the dispute. The General Court found this application was manifestly admissible. "They are very picky with formalities," said Johannes.

0 Comments

Post a comment
THURSDAY, 20 SEPTEMBER 2018
A trade mark owner's guide to EU copyright reform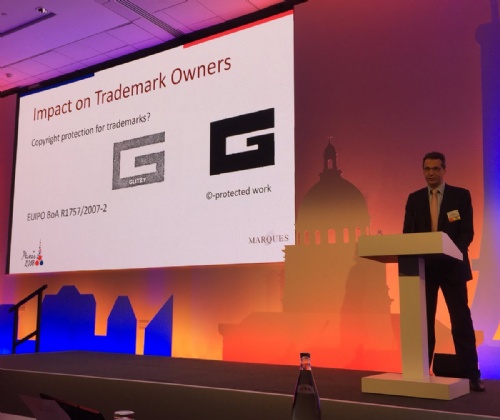 More than 35 copyright legislative proposals and policy initiatives have been proposed in the EU since 2015, explained Cristina Duch of Baker McKenzie, in today's Annual Conference session on copyright reform and its impact on trade mark owners. One of these initiatives is the new Copyright Directive, passed in amended form by the European Parliament last week. The new MARQUES Copyright Team has been active in monitoring and analysing the proposals.
During the session, Franz Gernhardt of Bird & Bird discussed Articles 11 and 13 of the Directive, covering respectively the so-called link tax and platform owners' liability. He said that the recent amendments passed by the European Parliament made several major changes, including allowing hyperlinks, excluding non-commercial and ruling out retroactive effect: "Much of the criticism of Article 11 has been addressed."
Article 13 originally proposed an "upload filter" whereby platform service providers should check all content for copyright infringement, and provide information to copyright holders. This has also been amended to address concerns that were expressed, said Franz: "It's one of the largest articles I've ever seen in legislation, particularly in the IP sector." The upload filter has been removed in favour of a cooperative approach.
Franz also analysed recent decisions of the CJEU on platform operators' liability: the Pirate Bay case (C-610/15), Filmspeler (C-527/15), Svensson (C-466/12), GS Media (C-160/15) and UPC Telekabel (C-314/12). "It's definitely not going to be boring in the copyright sphere!" he concluded.
Addressing in more detail the impact of the reforms on trade mark owners, Christian Schumacher of Schoenherr talked about how Articles 14 to 16 may affect contracts between brand owners and designers. Article 14 covers fair remuneration, Article 15 introduces a contract adjustment mechanism and Article 16 says that member states must provide a dispute resolution mechanism. "It looks like these will apply to trade marks, but we will have to see how it is implemented," he commented.
Christian also discussed decisions from the EUIPO Boards of Appeal and EU General Court on copyright protection for trade marks, as well as two decisions from the Austrian Supreme Court concerning the use/modernisation of logos that have been commissioned (Zimmermann Fitness and TirolMilch).
Finally, Peter Schramm of Meyerlustenberger Lachenal AG took a look at the effect of the copyright reform on the furniture industry, which he said in some ways is comparable to the music industry: "Sales of design classics ensure the promotion of young designers and design innovations." Will the copyright reform help protect design classics against piracy? Articles 13 and 17 may be helpful, said Peter, but questions remain about the protection of works of applied art and lack of harmonisation in the EU.

0 Comments

Post a comment
THURSDAY, 20 SEPTEMBER 2018
The new world of non-traditional trade marks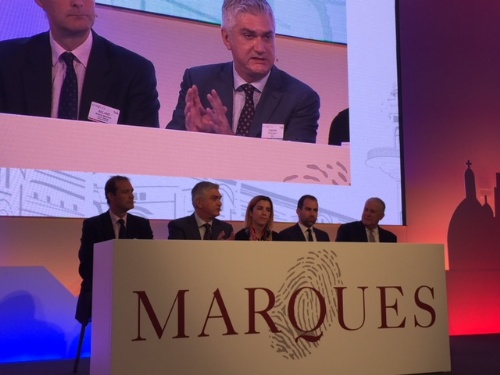 Today's first panel at the Annual Conference looked at the post-graphical representation of non-traditional marks, following the abolition of the graphical representation requirement last year and the introduction of the new Implementing Regulation.
Session chair Roland Mallinson of Taylor Wessing introduced 16 examples of multimedia, motion, position, 3D shape and sound marks that had been applied for at EUIPO since October last year. Some of these have been registered but others are still pending. He also pointed out that about 7,300 cases focused on the graphical representation requirements between 1996 and 2017, when it was abolished.
Dimitris Botis, Deputy Director of the International Cooperation and Legal Affairs Department, EUIPO, summarised the new Implementing Regulation. Some marks can now be filed in an easier and more accurate way by using electronic means, said Dimitris, but the popularity of different types of mark varies: since 1 October 2017, there has been just one hologram mark but 421 shape marks filed.
Dimitris provided guidance on representation, description and disclaimer for the different categories of marks, and discussed some specific cases. For example, sounds must be reasonably identifiable, notable and memorable: the sound of someone saying the word "Barca" was registered, but the sound of a dog barking (for pet food) is still under examination.
Dimitris concluded by saying that the reaction of courts to these new types of marks can only be guessed at. In the meantime, EUIPO is working with national offices to try to give a uniform effect to the Directive. National states have to implement the Directive by January next year.
On this point, Irene Marugan of the European Cooperation Service, EUIPO provided further details on Convergence Project 11 "New types of marks: examination of formal requirements and grounds for refusal". She explained how the Project would be developed, including the involvement of user representatives such as MARQUES.
Based on a straw poll of staff in 25 offices, certain trends are already clear: for example, the sound of the dog barking for pet food would likely be rejected by all offices (although for different reasons), but a robot voice saying "Gerivan" for clothing would likely be accepted. For motion marks, there was a split between offices over a bike riding in a city for insurance services, as there was over hands clapping for remote controls and also for the multimedia mark of a footballer kicking a ball for sports clothing. "There is a level of divergence in the answers received," said Irene, adding that there was further divergence when it comes to relative grounds. "There is a lot of work to do and it will be a real challenge to come to an agreement."
Giving a practitioner's perspective, Kasper Frahm of Plesner raised some questions about the 16 marks under discussion, such as: Is 16 seconds too long to work to function as a trade mark? Is it possible to identify what is distinctive? If marks are registered, how wide will the scope of protection be? What role does the description play? Could there be a "substantial value" objection? There are a lot of sound mark applications at the moment, he added, many of which have already been registered.
Red Horowitz of BakerHostetler provided a US view, focusing on the definition of trade mark, the considerations applied to non-traditional marks and examples of those that have been registered as sounds, scents, flavours, motions, holograms, lights, textures, colours, colour combinations and trade dress.
He also set out the USPTO's requirements for representing these marks. Single colours and trade dress cannot be inherently distinctive, so evidence of acquired distinctiveness must be provided for such marks.

0 Comments

Post a comment
WEDNESDAY, 19 SEPTEMBER 2018
How to save the UDRP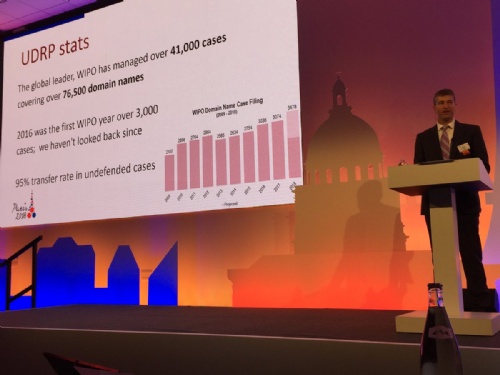 Annual Conference delegates were brought up to date on the planned ICANN review of the UDRP system today. Nick Wood of Com Laude said that the MARQUES Cyberspace Team is closely monitoring it and "We are requesting that the ICANN review is a data-driven review." He added that MARQUES estimated that brand owners have spent at least $500 million filing UDRP cases since 1999, while respondents have paid very little.
Willem Leppink of Ploum and Georges Nahitchevansky of Kilpatrick Townsend, who are both UDRP panellists, explained that different stakeholders have raised a number of issues to be addressed in the review, including:
Should "registered and used in bad faith" be changed to "registered or used in bad faith"?
(Claimed) conflicts of interest: should panellists also represent parties?
Should all panels be three-person panels? And should there be appeals?
Penalties: should the loser pay? Should there penalties for attempted reverse domain name hijacking?
How can defaults be best managed?
George and Willem's 7 tips for UDRP claimants
Don't take it too lightly - understand the policy and what you need to prove; read WIPO Overview 3.0
Domain name disputes are not the same as trade mark law cases
Ensure your complaint is clear and includes all facts and arguments
But: don't make it too complicated!
Go to court if there is no grabbing
Account for post-UDRP issues
Do not file questionable cases - you risk undermining the system!
Brian Beckham of the WIPO Arbitration and Mediation Center said that domain name cases are evolving but added: "One of the concerns is that the UDRP hasn't changed in 20 years but we believe the framework has given panellists flexibility. We're worried about that flexibility's being undermined. Our message is that the UDRP is working and we should leave it to do its job."
Aimee Gessner of BMW Group discussed BMW's approach to the UDRP and in particular how it prioritises cases (ie, if the domain reflects a main brand, if the domain is needed for its own use or if there is actual use of the domain) and whether to use UDRP or local trade mark law. Cases where the UDRP was useful included b.mw (the first ever case over .mw – the ccTLD for Malawi), bmwetk.com, bmwfinanceira.com, cartesbmw.com, bmwispi.com and bmwista.com.
Nick urged MARQUES members and other trade mark owners and practitioners to get involved in the review process by sharing their views and concerns, and attending an ICANN Meeting in person if possible.

0 Comments

Post a comment
WEDNESDAY, 19 SEPTEMBER 2018
Trade secrets in the spotlight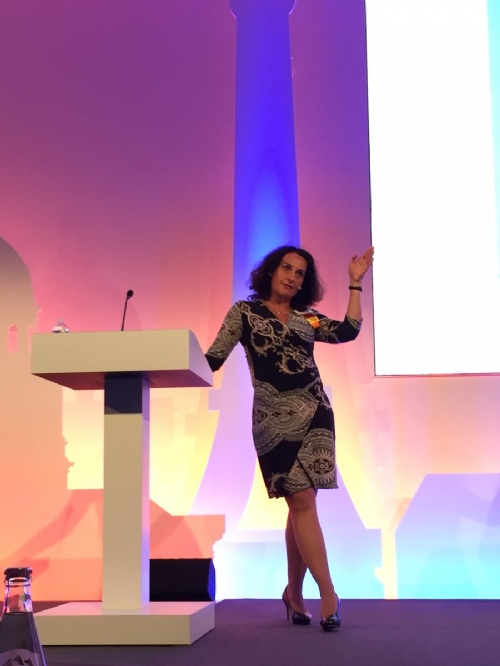 "Why would a group of trade mark lawyers be talking about trade secrets?" asked Michael Grow of Arent Fox at this afternoon's Annual Conference session Design Your Secrets, while fellow speaker Donal O'Connell of Chawton Innovation Services noted that trade secrets used to be "the neglected step-child of IP". Today, that has changed, and this session delivered a mix of law, romance, rare liquors, sports, religion and politics.
Virtually all brand owners potentially own trade secrets, such as customer lists, said Michael. In the US, the number of trade secrets cases has increased exponentially in recent years: about 90% of cases involve employees seeking to make money from confidential information. Donal pointed out that recent legislative reforms in the US, Europe and China, increased litigation, cyber crime, open innovation, the nature of employment and trade wars as well as the growing interest of tax authorities, exemplified by the OECD BEPS guidance, add to the need to pay attention to trade secrets.
Michael set out the provisions of the 2016 US Defend Trade Secrets Act, including which factors courts will look at in deciding whether there is protection and what remedies can be imposed. "Even a foreign national, or a foreign company, that commits an act abroad that has an effect in the United States can be subject to prosecution under US law," said Michael.
Measures recommended by Michael include: conduct audits; limit access to information; store trade secrets securely; and use confidentiality labels. "It's important to do this because people move from job to job much more, and technology enhancements facilitate cyber theft," he said. Well-known trade secrets include Chartreuse, Kentucky Fried Chicken, Match.com, Thomas' English Muffins, Twinkies, WD-40, the Google algorithm and the Krispy Kreme recipe and warming method.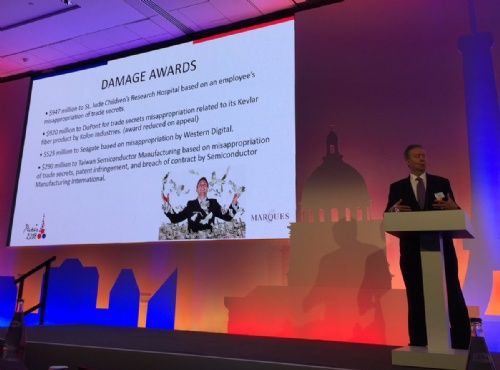 Claudia Pappas of Thyssenkrupp Intellectual Property discussed the measures taken by her company to comply with the new EU Trade Secrets Directive. It has adopted a three-stage process: classification, securing tools and protection processes. It also has a Strategic Trade Secrets Council at the corporate level.
Questions from the audience in the session, which was moderated by Tove Graulund of Graulund Consulting, included: whether and how to account for trade secrets assets, whether there is a difference between intellectual property and intangible assets, enforcement, communication and how to manage trade secrets in practice. Keeping control is key, said Donal: "A significant number of trade secrets cases involve your friends," he warned.

0 Comments

Post a comment
WEDNESDAY, 19 SEPTEMBER 2018
New perspectives on lookalikes and similarity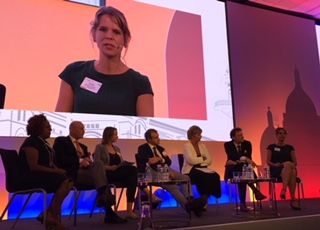 Why do consumers like copycats? What makes copycats successful? Femke van Horen, Vrije Universiteit Amsterdam, The Netherlands introduced some psychological perspectives to trade mark law in her presentation during today's MARQUES Annual Conference session "Design Your Mark". The panel was chaired by Lydia Gobena of Fross Zelnick Lehrman & Zissu.
Drawing on research about consumer attitudes and the assimilation effect, Femke (pictured far right) presented insights into the factors that influence perceptions about copycats, including: How much is copied? What is copied? And where is it copied? The research covered brands such as Bertolli, Milka and Tropicana, and showed that consumers actually like copycats with moderate similarity more than those with high similarity. "A thematic imitation is far more successful," she explained: "Blatant similarity is disliked, whereas subtle similarity is liked. And consumers think different than lawyers may think." The latest marketing research focuses on using fMRI studies of brain activity to supplement self-reports.
Stefan Völker of Gleiss Lutz and Tom Scourfield of CMS presented the results of two MARQUES surveys on colour and shape trade marks covering 25 jurisdictions, covering topics such as acquired distinctiveness, the importance of surveys, graphical representation/description and enforcement. The full results of the surveys will be posted on the Class 46 blog shortly, and submissions are welcome from other jurisdictions.
The panellists – Giordano Cardini of Ferrero, Birgit Choudhry of Red Bull GmbH and Sandrine Royer of Nestlé Legal – discussed practical questions about the challenges of protecting and enforcing the designs of new and established products. Topics covered included how consumers perceive different aspects of brands and court decisions from Europe, China, South Africa and elsewhere on likelihood of confusion, unfair competition and passing off. Questions included when to file, what to seek protection for, the use of surveys and the criteria applied by the courts in cases involving non-traditional marks.

0 Comments

Post a comment
WEDNESDAY, 19 SEPTEMBER 2018
Senator raises concerns over threats to brands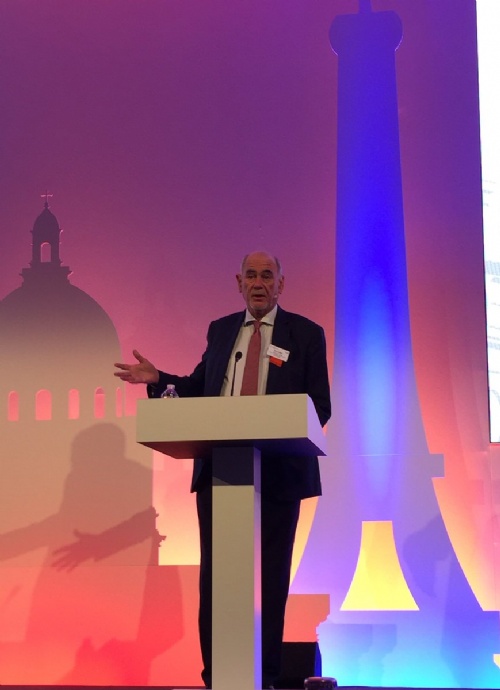 Mr Richard Yung, Senator representing French citizens established outside France and President of the National Anti-Counterfeiting Committee (CNAC), was the first speaker at this year's MARQUES Annual Conference in Paris.
Senator Yung discussed the roles that brands play in guaranteeing quality and prestige, and the contribution they make to the European economy. He also noted how they can supplement or substitute other forms of protection, such as geographical indications, citing the example of espadrille manufacturers in the Basque region of France.
But the Senator noted that there are several threats to brands. These include plain packaging for cigarettes, introduced in France in January 2017, which he said "creates a dangerous precedent" and "is a drawback". Other areas of concern he mentioned were Brexit, and the hijacking of brands on the internet by keyword advertisers. "It is urgent we take action on this," he argued.
Finally, Senator Yung said he would like to see an IP Court created in France similar to the IPEC in the UK, to facilitate SME access to justice and simplify resolution of small disputes.
Senator Yung was the opening speaker at this year's Annual Conference, which takes place in Paris until Friday. The MARQUES blogs will have regular updates during the Conference.

0 Comments

Post a comment