TUESDAY, 18 OCTOBER 2011
Trade Mark of the day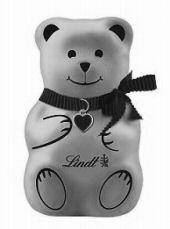 This member of Class 46 recently spotted the chocolate bear (shown to the left) in a Berlin foodhall. Given its gold foil wrapping and red ribbon she intially mistook it for a golden Easter bunny (see below right, also see here).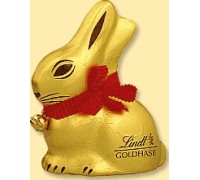 She admittedly forgot all about it until she saw Markenblog.de's post about this little golden bear and its corresponding trade mark (see here).
Reason enough to make this our trade mark of the day.
International trade mark No. 1090383 LINDT in the name of Chocoladenfabrik Lindt & Sprüngli AG covering "cocoa and chocolate powder; hollow and filled chocolate; chocolate cakes, particularly small assorted chocolates (pralines); hollow and filled chocolate shapes" in class 30.