SUNDAY, 10 OCTOBER 2010
Prleška tünka gets the GI treatment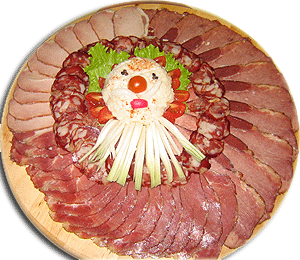 Commission Regulation 886/2010 of 7 October 2010 entering a name in the register of protected designations of origin and protected geographical indications [Prleška tünka (PGI)] confers protection on a Slovenian meat product. According to the original application, 'Prleška tünka' is composed of meat and minced lard ('zaseka'). The pieces of meat (legs, loin, sirloin or neck of pork) are salted, dry-heat treated and smoked. The minced lard (minced bacon) is prepared by heat treatment of the hard back fat. The application also talks about the product having a 'pronounced flavour' -- but this writer is still struggling to pronounce its name!