THURSDAY, 1 APRIL 2010
Coke goes green in Germany - literally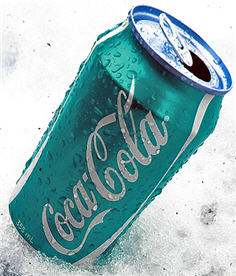 As Class46 has reported earlier, McDonald's announced that it was going to change its corporate colour to green in Germany to emphasize its commitment to ecological principles. The announcement was later withdrawn, but seems to have inspired Coca-Cola: Coca-Cola spokesperson Stefanie Danne announced that Coca-Cola would market green Coke bottles and cans in Germany in an effort to publicize its new carbon-neutral corporate responsibility commitment.
Details can be found here on Coca-Cola's German website (in German only).