THURSDAY, 4 MARCH 2010
When is a device mark not a device mark? When it's seen as mere words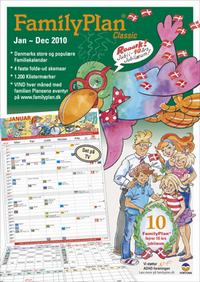 Last year the Maritime and Commercial Court ruled in Fortuna Publishers v Mayland-Burde A/S. Fortuna, a publisher of wall calendars, obtained trade mark registration of a device mark containing the words 'FamilyPlan' for goods in Class 16. Mayland-Burde, a supplier of paper calendars (among other products) was the proprietor of various registered trade marks which included PLANNER, INDEX-PLANNER, COMBI-PLANNER, SINGLE-PLANNER, HANDY-PLANNER, MINI-PLANNER, MAYLAND PLANNER, UGE-PLANNER, MAXI-PLANNER and PERSONAL-PLANNER. In 2001 Fortuna began marketing a wall calendar under the designation FAMILYPLAN, in which the calendar sheets had columns for each family member. In 2008 Mayland began marketing a calendar under the mark THE FAMILY PLANNER.
Fortuna sued, alleging trade mark infringement and unlawful marketing. According to the court Fortuna's mark FAMILYPLAN, although it was registered as a device mark, was seen as a word mark and must be considered to be descriptive of Fortuna's calendar. This being so, the mark, consisting of two ordinary words, was deemed to lack any inherent distinctiveness and could only survive if Fortuna could prove that the mark was well established in the market. Saying it lacked (i) sufficient information to comment on the market's familiarity with the mark and (ii) any information on Fortuna's market shares, sales and turnover figures and marketing costs, the court concluded that Fortuna was not entitled to claim 'FAMILYPLAN' as a word mark, ordering that company to pay Dkr30,000 in costs. The court suggested it might have reached a different conclusion if Fortuna had made greater effort to prove that its mark was well established in the market (eg, through the conduct of consumer interviews and the provision of clear information about its marketing costs).
Source: note by Mads Marstrand-Jorgensen (Norsker & Co.) for International Law Office.