SUNDAY, 31 JANUARY 2010
Du Pareil au mÍme fails to ensure trade mark protection against Zara France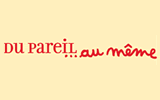 The well-known French company Du Pareil au même (DPAM) failed to ensure protection for its trade mark "86" in a case pending before the French Supreme Court against Zara France. This latter company had been sued by DPAM for having sold tank tops bearing the "86" trade mark.

In a previous phase of the civil proceedings, the Paris Court of Appeal had established that Zara France was not liable of infringement and parasitism, since DPMA's "86" trade mark had expired because of lack of "serious" use by the owner for more than five years. DPAM challenged this decision before the French Supreme Court, arguing that the sign "86" was actually used on clothes in the relevant period. DPAM conceded that the sign "86" was embellished with different designs, or deconstructed in its representation, or accompanied by designations such as "Baby", Motocross", "RW86", "DP 86", "Lucky".

In DPAM's view such use qualified as a use in a modified form suitable to keep the trade mark alive. The French Supreme Court, however, noted that in its opinion the different versions of the sign "86" operated by DPAM could not qualify as "a modified form of the sign which does not alter its distinctive character", and that the relevant public – by perceiving such forms only as decorative patterns – would not establish a connection with the registered trade mark. For these reasons the Supreme Court, dismissing DPAM's petition, established that DPAM's "86" trade mark should be removed (Arrêt 15 December 2009).

Note kindly supplied by Cristiano Cori (GE). Full text of the decision here.