MONDAY, 4 JANUARY 2010
Latest Trademark World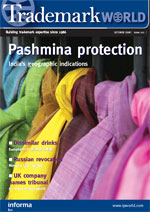 The December 2009/January 2010 issue of Trademark World has been published. You can read the full contents of this issue here.

While much of the content is directed to transatlantic issues, there is still plenty to interest the European reader. In particular, in "Understanding Initials" Franck Soutoul and Jean-Philippe Bresson (of Paris-based Inlex) have analysed current European Community practice regarding short trade marks. Also Kate Swaine and Alice Stagg (Wragge, UK) summarise the present law and practice regarding the extent to which a defendant in infringement proceedings can plead the use of his/hers/its own name.