MONDAY, 5 OCTOBER 2009
Latest ETMR, Trademark World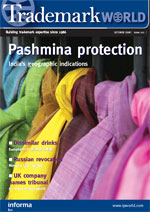 The October issue of Sweet & Maxwell's European Trade Mark Reports has now been published. Cases included in this issue include the major rulings of the Court of Justice in the European Communities in L'Oréal v Bellure (reference to names of well-known perfumes when advertising 'smell-alikes'), Chocoladefabriken Lindt & Sprüngli AG v Franz Hauswirth (the 'chocolate bunnies' dispute, establishing criteria of bad faith) and Zino Davidoff SA v Bundesfinanzdirektion Südost (whether proprietors of Community trade marks are proper applicants for customs actions), as well as the decision of the High Court for England and Wales in Daimler AG v Sany Group which criticised the lack of consistency as between OHIM and the UK IPO in the treatment of designations of Classes.

Also published is the October edition of Informa's ten-times-a-year Trademark World, which contains news and discussions of several matters of interest to the European trade mark owner and the region's practitioners. Topics covered include the impact of Lithuania's constitution upon its national trade mark law, the operation of the Company Names Tribunal in the UK and revocation of registered marks for non-use in Russia.