MONDAY, 17 AUGUST 2009
Brand evolution: Pepsi vs Coke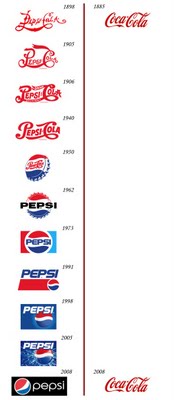 In the last weeks, the image to the left has made the rounds on the internet, purportedly showing that while the Coke-logo remained the same for over a hundred years, Pepsi constantly changed - to its detriment, implicitly (click on the image to see a bigger version).



But, as Oscar Wilde said, the truth is never pure and rarely simple. As Brand New points out, the Coke-logo has also undergone substantial changes over the years - although in my opinion, less so than Pepsi (see image on the right, again, click for a larger version).