FRIDAY, 26 JUNE 2009
The function of a trade mark: first Laddie lecture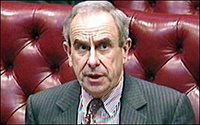 On 16 June Lord Hoffmmann, who recently retired as a Lord of Appeal in Ordinary (Law Lord) in the United Kingdom, delivered the Sir Hugh Laddie Lecture: "The Function of a Trade Mark -- Hugh Laddie and the European Court of Justice". In this lecture the distinguished appellate judge reflects on the contribution made to European trade mark law by the late Sir Hugh Laddie.
In surveying Sir Hugh's leading cases, including
Wagamama
,
Davidoff I, Arsenal
and
Boehringer Ingelheim
, Lord Hoffmann focuses on Sir Hugh's belief that the key function of a trade mark is to act as a badge of origin. Lord Hoffmann concludes with the prediction that European trade mark lawyers may yet come to adopt Sir Hugh's approach.