THURSDAY, 2 APRIL 2009
M-Tel "best Bulgarian brand" in independent survey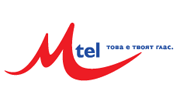 Class 46 has received information from Ventsi Stoilov (Sofia, Bulgaria) concerning the Superbrands Bulgaria list. You can read it in the original Bulgarian here, but Ventsi has summarised it for you in English.  In short:
"500 local and international brands in the field of consumer goods and services (business-to-consumers) were selected for Superbrands Bulgaria. The object was to conclude the second independent study of the consumer segment of the Bulgarian market. "M-Tel"(a Bulgarian Mobile operator) was the strongest Bulgarian brand. The global leading brand was Coca-Cola, which won the votes (thousands of consumers voted online).

Superbrands uses the same methods of brand selection and evaluation in all countries in which it implements its programmes.  The selection process takes place in two stages: first there is a confidential vote of the members of the independent expert panel (the Board of Superbrands Bulgaria), then comes the national voting by consumers online. This allows expert opinion to be considered along with the views of the wider public. Board members receive no material reward and are not allowed to evaluate marks related to them or to their competitors.

The expert panel of Superbrands is updated each year and is formed by specialists in the following three areas: marketing, business and the media. The chairman of the Board of Superbrands for this project is Professor Dr Veselin Blagoev, Chairman of the Bulgarian Association for Marketing. Superbrands' partner in the implementation of the national online vote is the leading market research institute GFK Bulgaria".

Ventsi has lots more information concerning the methodology of the survey. If you want to contact him, you can do so by email here