WEDNESDAY, 20 SEPTEMBER 2017
31st Annual Conference, Prague - Wednesday morning

Chair of the MARQUES Council Gregor Versondert of Procter & Gamble opened this year's Conference in Prague, noting that it is the third biggest Annual Conference. It is the second time MARQUES has held the Conference in Prague - we were last here in 2005.
Gregor introduced Josef Kratochvil, President of the Czech Republic Industrial Property Office, to perform the Opening Ceremony. In a short speech, Mr Kratochvil summarised the history of IP in the Czech Republic, going back to the 1859 Trade Mark Act, and highlighted some notable Czech brands such as Pilsner Urquell.
Looking to the future, he said the Czech Republic has already started to revise its Trade Mark Act to comply with the revised EU Directive. A draft is expected to be published by the end of this year, to be debated in Parliament in 2018.
Mr Kratochvil said "trade mark protection will develop further", with new types of trade marks and greater cooperation against counterfeiting. But he warned about the danger of misleading invoices: the Czech Office is working with banks and property owners to tackle this problem. MARQUES also has a Task Force devoted to this issue.
Cultural trends in brands
In the first panel session, keynote speaker Ruben Mosblech of Interbrand provided a history of branding. Brands have evolved from an indiction of identification to one of value now to one of experience, he said. "All products and services are much more directed at the consumer, and what he or she can experience in the product," he added, and then asked: what comes next? The answer is "The Age of You", which has been called the "Mecosystem". This means personalisation, tailored advertising and predictive intelligence.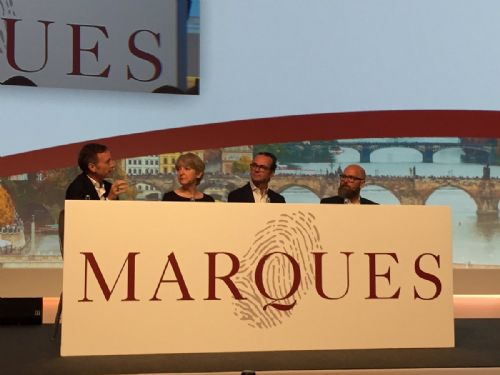 A recent example of how culture can have an impact on branding is Jio in India, a new and innovative brand that added 50 million new consumers in 83 days, making it the fastest-growing ever. Brands that have successfully adapted to global cultural changes include Starbucks, Nike, IKEA and McDonald's.
"Brands are cultural assets," Ruben concluded. For example, Juventus went from being a football club to a global icon, built around its black and white colours and the idea of being "fearless".
What is the difference between trade marks and brands, asked Gregor Vos of Brinkhof in the next presentation. He focused on European history and ideas of individuality. In the 1970s the European Court of Justice ruled in favour of free trade in a number of cases, and in 1996 OHIM (now EUIPO) was created.
Thanks to the internet and globalisation, brands became universal: "In Europe this was made possible by the harmonisation of the internal market - and trade marks." In response, he said, now there is a return to local brands - for example, in the Netherlands there are more local breweries than ever, as the big beer brands have become consolidated.
Gregor contrasted the "unitarian" approach taken by the CJEU (in cases such as Silhouette, Pago and Onel) with a less unitarian approach evident in Matratzen, DHL/Chronopost, Be Impulsive, Combit/Commit and most recently the General Court ruling in KitKat, which said that distinctiveness acquired through use must be shown in all the Member States concerned. "These are very exciting times for EU culture and EU trade marks," concluded Gregor.
Cara Boyle of Fross Zelnick Lehrman & Zissu provided a US perspective, describing culturally imposed restrictions on trade mark use ranging from prohibition to marijuana. While several US states now permit the sale of marijuana, it remains illegal at the federal level and the USPTO will not grant trade mark registrations for marijuana products.
Examples of geopolitical issues influencing brands include the Havana Club case, and more recently TIKI Brands' statement emphasising that its torches are not associated with the Charlottesville marches.
The most recent high-profile dispute involving a clash between culture and brands was The Slants case, where the US Supreme Court ruled in Matal v Tam that the bar on disparaging trade marks was not compatible with the First Amendment.
Censored marks – public policy and morals
Introducing a panel on what she called the "dark and dirty side of trade marks" Gabriela Taugwalder of Wild Schnyder said countries have various restrictions on marks that are immoral, scandalous, against public policy, vulgar etc. But who decides what is not acceptable? Should it be examiners, offices, courts, international panels or the public? "There are various traps that need to be kept in mind … what may be perceived as scandalous, immoral or disparaging is likely to shift over time." And what role should factors such as humour, satire and freedom of expression play?
Gabriela introduced a quiz for attendees, in which they could vote on whether they thought certain marks should be registrable or not, via the MARQUES app.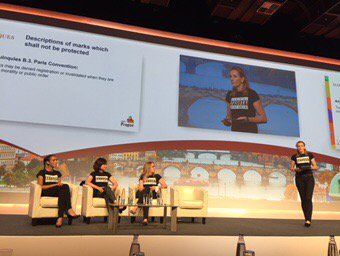 Kate Swaine of Gowling WLG reviewed various cases in Europe, "We are entirely inconsistent on matters of religion – no surprise there," she said. In the Netherlands, for example, SHIVA was registered for pornography services. It's not just religion that divides us, added Kate: "We Europeans are as inconsistent in our approach to sex as we are to religion," as decisions on registration of sexual references demonstrate.
Things get even more complicated in Russia, where there is a long list of restrictions on trade marks. One notable refusal was Kompromat.ru for media services. "In recent years the prevailing mood in Russia shows a high sensitivity to religion and Orthodox values, and that has an impact on the registrability of trade marks," said Kate. TROITSA (Trinity) was registered as a mark for beer, but later rejected for whisky.
In the US, there is a question about whether the Supreme Court's ruling on disparaging marks in Matal v Tam will be extended to immoral marks. There have been many applications to register racy marks at the USPTO: one was COMFYBALLS which was refused for mens' underwear but granted for ladies' underwear.
Francine Tan of Francine Tan Law Corporation provided a perspective on Singapore and Japan. "In Singapore we are a very conservative society, and issues of race and religion are very sensitive topics," she said. Rejected applications include BASTARD, JESUS and BUDDHA TO BUDDHA but EARL GREY BUDDHA, GOLDEN SHOWER and SEXUAL FLAVOURS have been accepted. "Brand owners should expect objections where marks could harm inter-ethnic relations," said Francine.
Japan is a more homogeneous society, and examiners take account of "common social wisdom" in deciding whether a mark is immoral or contrary to social norms. In the Champagne Tower case, the trade mark was rejected based on public order grounds. Applications for KILL and BURGLAR have also been refused, but there are numerous registrations including the word FUCK.
In Iran, rules on morality are strict and penalties may include execution, said Bahia Alyafi of Alyafi IP Group, but in the absence of guidelines examiners decisions are inconsistent and unpredictable. "What are the standards? We don't know!" said Bahia.
Saudi Arabia is similarly strict, and depends on examiners' views, leading to some unexpected decisions. NUITS ET CONFIDENCES was accepted but ROUGE NOCTURNE rejected. What is clear is that alcoholic drinks, pork products, bars, night clubs and the Red Crescent are not registrable; everything else is uncertain.
In the UAE, registrability may depend on who the applicant is – as the application for The Koran Information Centre suggests. In another case, NAKED PIZZA obtained a registration for N-K-D PIZZA: this was accepted as not being scandalous. "You can be creative and file the mark, and see if they will accept it or not," said Bahia.