THURSDAY, 26 FEBRUARY 2009
Another PDO is amended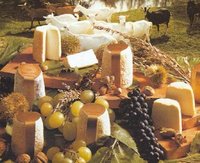 Commission Regulation 159/2009 of 25 February 2009 approving minor amendments to the specification for a name entered in the register of protected designations of origin and protected geographical indications (Chabichou du Poitou (PDO)) has just been published online, on the Official Journal website.
"The purpose ... is to amend the specification by stipulating the conditions for using treatments and additives to the milk and for the manufacture of 'Chabichou du Poitou'. These practices ensure that the key characteristics of the PDO product are maintained".