WEDNESDAY, 24 DECEMBER 2008
The ineffaceableness of a trade mark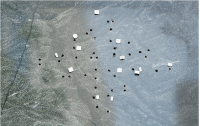 Several intellectual property offices in the Netherlands are into quizzing at the end of the year. For example Novagraaf has its Christmas Quiz , while Shieldmark.Zacco is famous for its Letter-Quiz. When I saw the picture on the left this morning it inspired me with the idea for a new quiz. Get some trade marks of the walls and let's guess which were the trade marks that were removed. Anxious to know how difficult the detection would be if you had only boreholes. Any clue which trade mark left the boreholes on the picture....? I know some people might be more interested in the question which bores removed the trade mark, but let's stick to the question. I won't let you wait long: indeed it's the Fortis trade mark....