TUESDAY, 23 DECEMBER 2008
Chocolate bearing counterfeit trade mark seized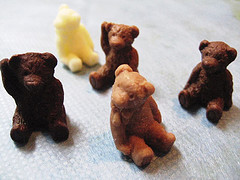 Some rights reserved by loveberry

French custom authorities have recently discovered and seized more than ten tons of chocolate in Rungis (the French city which hosts the "largest wholesale market in the world for fresh products").


The chocolates illicitly bearing the Ferrero trade mark were located in a container coming from Turkey. French custom authorities mentioned at a press conference that 32.832 boxes of chocolate were seized. These weight 10.749 kilos and represent a value estimated to 223.500 euros, which makes this seizure one of the most important in the food sector.





Sharing chocolate is something we appreciate during the seasons holiday. As we have an equal fondness for chocolate, bears, trade marks and games, here is a little riddle: can anyone spot a bear hiding in the logo of a famous European brand of chocolate?