MONDAY, 22 DECEMBER 2008
OHIM: December issue of 'Alicante News' now published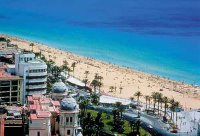 The December 2008 edition of Alicante News, the OHIM's monthly online newsletter, has now been published. As usual, the newsletter includes numerous gems of interest to trade mark enthusiasts. This month's country overview focuses on the Czech Republic. There is information on the new and improved version of OHIM's electronic communication system for MyPage users. The newsletter further includes the OHIM e-business roundup for 2008 and details of the changes to the national searches in 2009. Further details on this particular topic are also included in this Information Note. The subject of James Nurton's in-depth interview is Tim Behean, General Counsel, Group Intellectual Property, adidas. There is also a nice selection of case law from the Office itself, the ECJ and from the Court of First Instance. Finally, the newsletter also includes a list of OHIM's official holidays in 2009, which is also set out below.

"The official holidays on which the Office will not be open for the receipt of documents in 2009 shall be the following days:

1 January (New Year's Day)
2 January (Day after New Year's Day)
6 January (Epiphany)
10 April (Good Friday)
13 April (Easter Monday)
23 April (Santa Faz)
1 May (Labour Day)
21 May (Ascension Day)
1 June (Whit Monday)
24 June (San Juan)
12 October (Spanish National Day)
8 December (Immaculate Conception)
24 to 31 December (Christmas + end of year)

In addition in 2009, the Office will not receive ordinary mail within the meaning of Rule 72 (1) of the Implementing Regulation on 19 March (San Josť), 9 April (Maundy Thursday) and 9 October (Day of the Comunidad Valenciana)."