FRIDAY, 5 SEPTEMBER 2008
UKIPO: A new form TM26(N) from 1 October 2008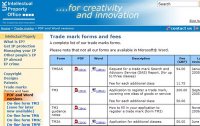 More new forms. The UKIPO this week sent the following information to its subscribers:

"[A] new TM26(N) will go live on Wednesday 1 October 08 but [the UKIPO] will continue to accept the old form for three months the period expiring on 2 January 09.

The new form has been redesigned to provide the applicant with the opportunity to set out in relation to which goods/and or services of the registration the applicant is seeking to have revoked. To reflect the fact that the greater number of revocation applications rely solely on Section 46(1)(b) grounds, the new form no longer has a box specific to grounds under Section 46(1)(a). If Section 46(1)(a) is also being pleaded then applicants may use Box 6 on the form to identify the relevant date.

In accordance with the Trade Marks Rules 2008 forms TM8(N), TM9(E) and TM29 will be available from the web site as from 1 October 2008."
All the above mentioned (new) forms will be available
here
as of 1 October 2008.