MONDAY, 21 JULY 2008
Austria: Update on the Fu Long panda bear trade mark dispute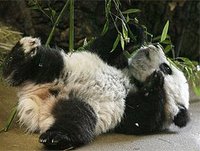 In its current newsletter No. 3/4 of 2008 the Austrian Patent Office gives an update on the Fu Long panda bear trade mark dispute. A saga that is reminiscent of the Flocke polar bear cub trade mark dispute in neighbouring Germany.

First, a short recap of the what has been happening so far. Panda cub "Fu Long"(Lucky Dragon) was born in the autumn of 2007 at the Vienna Schönbrunn zoo. Schönbrunn zoo then filed for trade mark protection for the word mark "Fu Long" at the Austrian Patent Office (application No. 243792). However, according to the Austrian Patent Office's newletter, the zoo had been quite slow and two other applicants had filed their applications for Fu Long marks before the zoo filed its application on 3o November 2007. In February 2008 Schönbrunn zoo ("Schönbrunner Tiergarten-Gesellschaft") filed a cancellation action concerning the word-and-device mark "Fu Long". The latter mark had been already been registered by an applicant from the Kärnten region on 22 October 2007. The defendant from Kärnten had until the end of May 2008 to file his response to the cancellation action; a deadline the defendant has missed according to the Patent Office's newsletter. The next steps are: the Kärnten trade mark will be cancelled by Austrian Patent Office's cancellation division and the defendant will have to pay the Schönbrunn zoo's costs. However, Austrian law allows for a two months' period during which the Kärnten defendant may appeal the cancellation decision. Should the defendant not appeal, the Schönbrunn zoo will be the sole proprietor of a Fu Long trade mark registration on the Austrian trade marks register. The newsletter does not report on the fate of the second prior Fu Long application and as such it appears likley that this matter must have been resolved more amicably. Finally, the newsletter cites the Patent office's president Friedrich Rödler, who said that this case was exemplary and showed the consequences of not taking trade mark protection seriously at an early stage. He is further quoted as saying that paying more attention to legal protection could prevent lengthy and unpleasant proceedings.