THURSDAY, 12 JUNE 2008
Lego argues its case before the CFI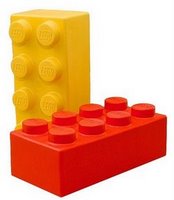 In Case T-270/06 Lego Juris v OHIM - Mega Brands Lego A/S was arguing before the Court of First Instance yesterday that it was entitled to trade mark protection for the shape of its toy bricks, in an appeal against the decision of an OHIM Board of Appeal to reject the Danish company's Community trade mark application. In 2006 the Board held that Lego's bricks could not be legally protected because their shape was functional, consisting exclusively of a shape needed to produce a technical result; the Board dismissed arguments that the knobs on top of the toy bricks gave Lego's products a "high degree of distinctiveness". Source: Stephanie Bodoni (Bloomberg).