FRIDAY, 7 JULY 2017
Farewell, fee irregularities -- and hello, streamlined e-Renewal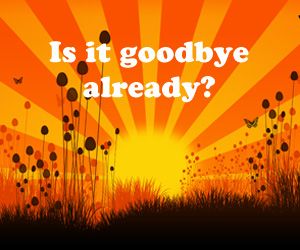 "Say Goodbye to Fee Irregularities with Madrid e-Renewal" is the cheerful title of WIPO's latest Madrid News bulletin. If you want to know what this fond farewell is all about, look no further. We have reproduced the full text of the bulletin below:
We understand the value of your brand…and your time [we should jolly well hope so, after all the time and effort that MARQUES has expended in trying to get the message through]. As part of ongoing efforts to streamline our e-services, we've changed the Madrid e-Renewal system to help minimize the risk of fee-related irregularities.

Starting Thursday, July 6, 2017 [that's yesterday, if you are reading this today, or next week if you are still living in the past ...], online requests for renewal are available three months prior to the expiry of your international trademark registration. After paying through the e-Renewal system, your request will not be affected by any subsequent fee changes. This means you can predict the cost of your renewal with greater accuracy and certainty.

Click here to learn more

0 Comments

Post a comment
TUESDAY, 4 JULY 2017
Madrid: things just keep getting better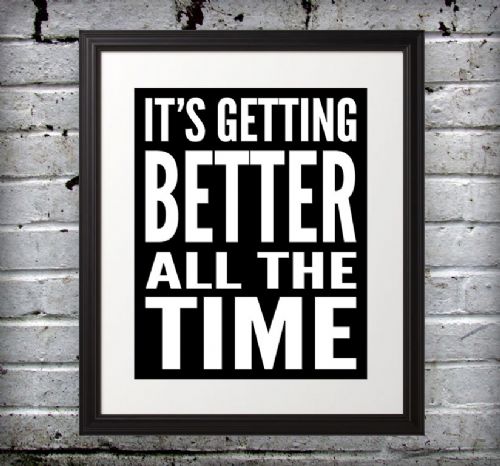 Our friends at WIPO are being helpful again, as the information below indicates. You may know about this already, since the changes referred into the communication below were approved by the Madrid Union Assembly in October of last year. We are pleased to add that that the limitations examination issue was covered in both Class 46 (June 13) and the June edition of the MARQUES newsletter.
1. Amendments intended to benefit holders
In response to requests from users and members, Rule 25 (1)(a)(iv) has been amended to allow holders to request changes concerning their legal nature and state of organization. This change can be requested on its own, or along with a change in the holder's name or address.
With the adoption of new Rule 27bis, holders will be able to request the division of an international registration for an individual Contracting Party (if permitted by the Office in question). This could be useful in the event of a partial provisional refusal, where division would allow the granting process to continue for those goods and services that were not refused, ultimately leading to a more time- and cost-efficient process.
And finally, where an Office of origin has issued a "provisional" notice concerning the ceasing of effect of a basic mark, the Office will be required to issue a notice once a final decision has been reached, making it easier for holders to stay apprised of the status of their marks (Rule 22).
2. Amendments aimed at assisting Offices of designated Contracting Parties
Amendments to Rules 3, 25 and 32 of the Common Regulations will require WIPO to notify Offices of any appointment, change or cancellation of a representative before WIPO, while an amendment to Rule 18ter(4) will make it easier for Offices to notify WIPO of further decisions concerning the scope of protection of international registrations.
Additionally, where an Office is unable to communicate with non-local holders due to domestic legislation, a new Rule 23bis will permit these Offices to transmit communications to such holders through WIPO.
3. Amendments to help clarify WIPO's role
The adoption of amendments to Rules 12, 25 , 26 and 27 has helped clarify the level of examination by WIPO with regard to limitations contained in international applications, as well as those requested for international registrations.
In addition, when cancelling an international registration following the ceasing of effect of its basic mark, WIPO will now also cancel (to the extent applicable) international registrations resulting from a partial change in ownership, division or merger (Rule 22).

0 Comments

Post a comment
TUESDAY, 27 JUNE 2017
Latest ETMR now available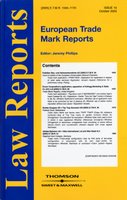 The July 2017 issue of the European Trade Mark Reports (ETMR) has now been published, a few days before its cover date.
To remind readers, the ETMR is a series of law reports published monthly by Sweet & Maxwell. It contains English-language reports, together with informative headnotes, of recent decisions from national and EU courts and intellectual property offices.
Five decisions are reported in this issue. Two are from England and Wales. One, from the Intellectual Property Enterprise Court, features a wonderful mixture of issues, including a claim for groundless threats of infringement. It's Azumi Ltd v Zuma's Choice Pet Products Ltd and it reflects well on that court's ability to process a multitude of legal issues swiftly and efficiently. There's also another in the apparently endless succession of rulings on the adidas three stripe marks, this time a cancellation decision from the EUIPO's Second Board of Appeal.
MARQUES members are reminded as usual that, if they have been involved in European trade mark litigation which is of significant interest, and if they can provide an English-language text of the full decision of the court, the ETMR will be delighted to consider it for publication. Communications should be sent to the Editor, Dr Stavroula Karapapa at s.karapapa@reading.ac.uk.
Posted by: Blog Administrator @ 12.43
Tags: ETMR,


0 Comments

Post a comment
SUNDAY, 25 JUNE 2017
Moldova: a transit country for counterfeit goods into the EU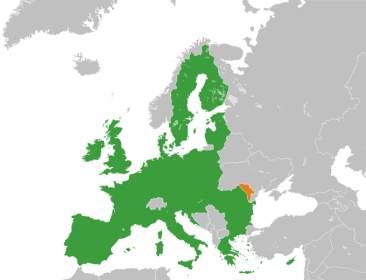 Moldova has ratified most of International Conventions in the field of intellectual property, including the TRIPS Agreement, and its legislation is harmonized with the European Directives. Furthermore, after it signed the Association Agreement with the EU in 2014, the country has launched a number of law enforcement projects, notably in respect to intellectual property rights. One of the primary objectives of these projects is to ensure effective rights at the border.
Geographically located at the eastern border of the European Union, on the one hand, but also in the immediate neighborhood of the Black Sea port of Odessa, on the other hand, the Republic of Moldova is interested in trade of the counterfeit goods. According to statistical data, a great quantity of the counterfeit goods found in the EU have been transited through the Republic of Moldova; the variety of products is very extensive, including in particular clothing, cosmetics, perfumery, cigarettes, medicines, car parts and food products.
From a legal point of view, Moldova has at its disposal the necessary customs means to prevent access of counterfeit products into the EU market. The Customs Code's provisions allow the intervention of customs officers either at the request of the right holder or ex officio. Moreover, with the transposition of EU Regulation 608/2013 into national legislation, the procedure is identical to that applied in the EU countries, including the destruction of goods shipped in small quantity. Thus the owners of intellectual property rights have adequate legal instruments to stop infringement of their rights in Moldova.
From the institutional point of view, there is an increase in the professional capacities of the customs officers. Through the educational partnership that our company has with the Customs Service of the Republic of Moldova, we have noticed that the customs authorities are willing to respect intellectual property rights at the border.
On the other hand, there is a need for more active involvement on the part of right holders. The statistics provided by the border authorities shows a decrease in the number of requests for intervention (down 39% when compared to 2015) and the total number of trade marks protected at the border declined in 2016 for the first time since the introduction of this protection system. At the same time, out of 32% of the cases related to detained counterfeit goods in 2016, the right holders did not react to the notification of the Moldovan customs authorities.
This data reveals a worrying situation that deserves to be further analyzed both by the responsible authorities of the Republic of Moldova and by rights holders. The active cooperation of right holders with the Moldovan customs officers would substantially reduce the volume of counterfeits on the EU market and by implication would favour the enforcement of intellectual property rights both in the EU and in Moldova.
This piece has ben specially prepared for the Class 46 weblog by MARQUES member Ion Tiganas, Attorney-at-law, PhD (Managing Partner, Tiganas & Partners IP Law Firm)

0 Comments

Post a comment
FRIDAY, 23 JUNE 2017
UDRP questions: WIPO selects some answers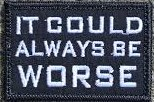 Remember the days when those pesky domain name registrations seemed to be the respectable trade mark owner's worst nightmare? Fortunately things aren't nearly as bad as they could have been, not least because there exists a stable, relatively consistent and quite economical system for arbitrating URL disputes. WIPO has a great deal of experience in this field now, and it shares this experience with its users. In this context we are pleased to draw your attention to the following release:
Dear colleagues,
We are pleased to announce the release of the Third Edition of the WIPO Overview of WIPO Panel Views on Selected UDRP Questions ("WIPO Overview 3.0"), which was officially launched in May. As a reflection of WIPO UDRP jurisprudence, the WIPO Overview is the go-to resource for WIPO complainants and respondents, and panelists alike.
The number of cases managed by WIPO has nearly doubled since WIPO Overview 2.0; it is through many of these cases that it has been possible to capture consensus views of WIPO UDRP panels as expressed in WIPO Overview 3.0. Following review of thousands of new WIPO cases, this updated edition cites almost 1,000 representative decisions from over 265 WIPO panelists across some 100 issues, twice as many as were covered by version 2.0.
Since creating the UDRP blueprint, WIPO has processed over 37,000 UDRP-based cases involving parties from 178 countries and decided in 21 languages by nearly 500 WIPO experts covering some 65 nationalities.
In a separate development, as of June 1, WIPO also administers cases under the policy for the EU domain, bringing to 75 the number of country code Top-Level Domains for which WIPO provides services.
You are welcome to learn more about WIPO domain name dispute resolution at www.wipo.int/amc/en/domains

0 Comments

Post a comment
THURSDAY, 22 JUNE 2017
Introducing ... the Madrid Member Profiles Databases

Have you been introduced to the Madrid Member Profiles Databases yet? No? Well, there's no need to stand on ceremony. Our friends at the World Intellectual Property Organization (WIPO) have broken the ice by doing the introduction themselves! This is what they tell us:
Introducing the Madrid Member Profiles Databases
On May 21, 2017 WIPO launched the all-new Member Profiles Database. This highly anticipated e-service offers a portal to the trade mark rules and examination procedures of Madrid System members, putting a wealth of vital information at your fingertips.

When preparing an international trademark application, use the Member Profiles Database to uncover details about trademark offices in your target markets, including which types of trademarks can be protected and how to file an international application through your 'home' Office of origin.

After you've registered your trade mark through the Madrid System, the database's simple interface gives you access to key procedures and time limits applicable in the countries or regions of Madrid System members you have designated under your international registration.

Read on to find out how get started with the Member Profiles Database.

Additional resources:

0 Comments

Post a comment
FRIDAY, 16 JUNE 2017
Top ten trade mark representatives in Switzerland, by number of new national applications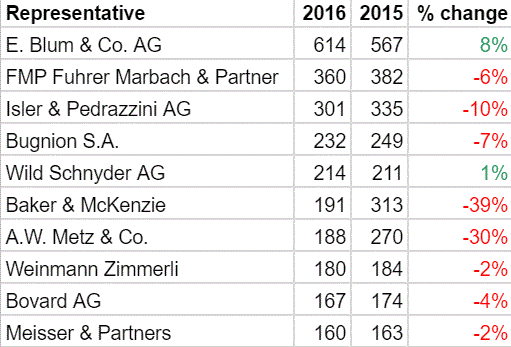 The table above shows the ten trade mark representatives that filed the most new national applications in 2016?in Switzerland, and the percentage change in new applications filed from 2015?to 2016?(last column). Note that for a methodological reason, the number of applications for 2016 is comparatively underreported, so the decline of applications for most firms in the top ten is potentially an artifact of the reporting. The relative standing is correct, however.
All the more impressive that E. Blum & Co?not only defends its top spot - which it has held for ten years now - but manages to increase the number of its applications. The other two firms in the top three remain unchanged compared to 2015 (I did not do a post in 2016). Wild Schnyder makes the biggest gain, from number 10 in 2015 to number 5 in 2017. This may have something to do with Barbara K. M?ller joining the firm in 2015. Just outside the top ten are Katzarov SA and Troller Hitz Troller.
As always, this ranking is based on quantity alone. Quantity does not mean quality. Draw your own conclusions. If you believe the numbers are wrong or I missed your firm, send me an email.?
The data is from?Swissreg, advanced search, the name of the firm selected as "representative", appropriate date range, only "new registration" was selected as "reasons for publication", all the options were selected for "status".?
Search carried out on?16 June 2017. If you believe your firm should be featured, please send me an email.?
Disclaimer:?I work for a?law firm?that also prosecutes trade marks. We are not among the top ten filers, so I don't think the fact that I am working for a competitor of the listed firms influenced the results in any way.

0 Comments

Post a comment