THURSDAY, 27 MARCH 2008
Nominet: Dispute Resolution Service Statistics


On its website Nominet, the UK Internet domain name registry, provides an interesting overview of statistics of its Dispute Resolution Service (DRS).

Since its re-launch in September 2001, Nominet has received 5117 new cases for its Dispute Resolution Service. Over the last 12 months Nominet received an average of 80 new, valid cases per month, of which 841 cases had to be referred to an independent expert for decision. In 160 of these cases the complaint was dismissed and in 3 of the dismissed cases the expert returned a finding of "reverse domain name hijacking". In the majority of cases decided, that is 678 (80%) cases, the complainant was successful. During the same period, the average settlement rate in domain name disputes was 58 per cent; in a further 91 cases, the parties settled before mediation began.



Since Nominet's re-launch in September 2001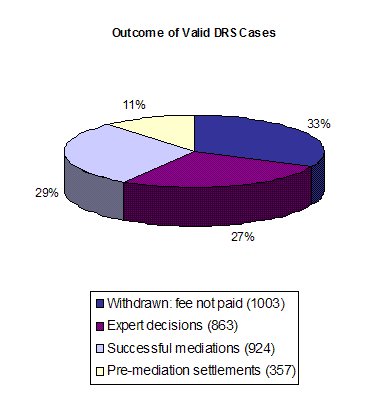 More details, as well as charts and graphs of these statistics can be found here.