FRIDAY, 21 MARCH 2008
Banksy: Trade Marks and Anonimity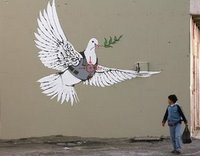 Can you register for a trade mark anonymously? What might look like a stupid question isn't. Trade mark owners, attorneys and litigators know how devistating it can be to have a trade mark registered for a company or person that is not really entitled to it or- even worse - for a non-existing company or person.

Cases in the first could give rise to severe ownership fights and bad faith discussions. Category two cases can leave you with no right at all. In a case I fought ten years ago (I acted for the defendant) the plaintiff was a GmbH (a German company with limited liability), but the owner of the involved trade mark was not that GmbH, but a group company related to the GmbH that acted as a GmbH & Co KG and that was the end of the case (the GmbH was not entitled to proceed).
In a similar case the District Court in Breda ruled in 1996 in summary proceedings that a registration of a trade mark by Viking Europe B.V. could not generate a valid trade mark right, if the name of the company concerned is Viking Acoustical Corporation Europe B.V. To be short: if the registrant's name that is in the registry differs too much from the real name, the trade mark registration could be regarded as non-existent. Luckily these cases are rare.
An area where a comparable issue could appear is in certain, badly administered mergers. If one of the companies that owns certain trade marks ceases to desist (and this is final), but the transfer of the trade marks to the prevailing company has not been executed yet, the prevailing company could end up with no trade marks, because there seems to be no one left who is entitled to act on behalf of the company that ceased to desist.
These thoughts came to my mind when I read a news issue on
MarketingWeek's website
that urban artist
Banksy
(beautiful work by the way) filed a trade mark application at the UK Intellectual Property Office (IPO) for Banksy in classes 3, 6, 9, 14, 16, 18, 19, 20, 21, 24, 25, 26, 27, 28, 29, 30, 31, 32, 41 and 42. The filing was done by Saunders & Dolleymore who registered a Lazarides Limited from London as the proprietor, a company that certainly exists (
http://www.lazinc.com/
), but how to combine this with Banksy's wish to remain anonymous? That, fortunetaly for Banksy and us, remains a secret, but rest assured that Banksy must have some kind of agreement with Lazarides, that protects his trade mark interests, in case anything would go wrong with Lazarides. But shouldn't a pledge for example be registered too to prevail, so that anonimity ultimately should be disclosed in the end?