WEDNESDAY, 19 MARCH 2008
Hamming it Up: Prosciuttos Sold on the Italian Market Found to be 'Fakes'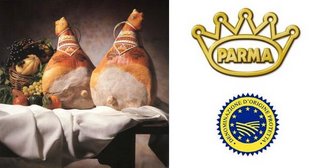 Pursuant to a crackdown on 'fake' Parma hams, conducted by the Consorzio del Prosciutto di Parma over a period of two months, approximately 1,000 hams have been seized across Italy. 'Real' Parma prosciutto, marked by a stamp bearing the image of a crown (see graphic) enjoys the protection of a 'Denominazione d'origine prottetata' ('DOP') within the European Union, and in this sense can be compared with the sparkling wine of France's Champagne region or with Parmigiano Reggiano cheese, also made in Parma.

In statements released in late February, authorities confirmed that the seized hams were not legally branded with the crown trade mark, implying that they had not complied with the strict criteria that must be met by DOP prosciutto. This meant that the fake hams, though not 'harmful to [the] health', would be detected as frauds by a prosciutto 'connoisseur'.

The consequence of fake prosciutto entering the market is not only that customers are mislead as to the quality of the product purchased, but also that the highly controlled reputation of Parma prosciutto is damaged.

The Italian food sector takes these things seriously, as indicated by the involvement of the Carabinieri Nas, an arm of the Carabinieri with a specific mandate to investigate and intervene in food industries, in the recent seizure. Those found to be involved in the counterfeiting, including vendors and the makers of the fake 'Parma' stamp, all risk criminal convictions for commercial fraud and fines for infringing the Parma mark. They may also be obliged to pay compensation for damage to the image of the Consorzio del Prosciutto di Parma, and to that of DOP prosciutto itself. In another investigation commenced by the Consorzio in 1999, the accused, facing the same charges of commercial fraud and trade mark infringement, was ordered to serve six months imprisonment.

Notwithstanding this artillery of domestic sanctions, it remains difficult for food consortiums to protect their products overseas. Outside Italy, the problem faced by the Consorzio del Prosciutto di Parma is less about counterfeiting, and more about misleading or false descriptions. This nonetheless presents a concern. The Consorzio del Parmigiano Reggiano has suggested a collaboration between the forces of Italy, France, Portugal and Spain, the countries with the highest proportion of marks enjoying Community protection, to better preserve the foreign reputation of such marks. Looking to bolster the protection of the Parma prosciutto DOP, the Consorzio del Prosciutto di Parma has supported this proposal.