THURSDAY, 3 JANUARY 2008
Metro licence deal in Czech Republic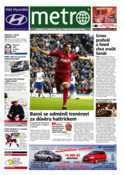 International newspaper group Metro International SA has struck a deal with leading Czech publisher MAFRA. The deal is a sale and purchase agreement whereby MAFRA buys 60% of Metro International's Czech operation--which will continue to publish the free daily Metro under a trade mark licence from Metro International. Metro Czech publishes a free daily paper, Metro, which is distributed in all main towns throughout the country.